---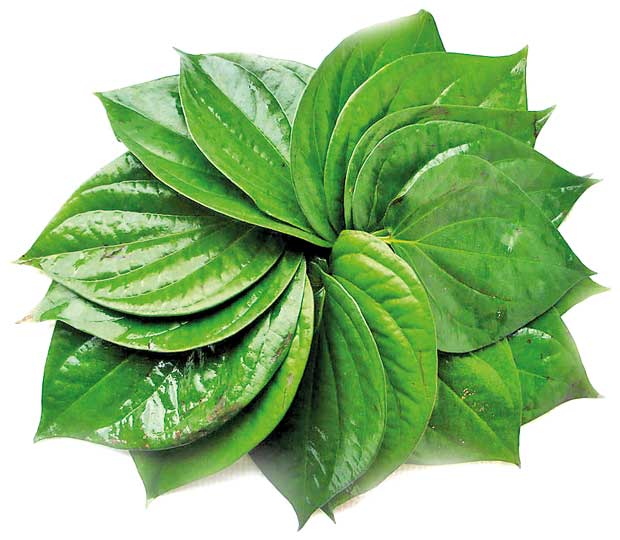 Just like milk rice, oil cake (kevum), kokis and plantains, betel leaves are considered an indispensable item during the Sinhala and Tamil New Year. Its purity and holiness are the same to the kings as well as the common man. All of them respect, offer, receive and chew it with condiments like Arica, Chunam and Tobacco. Unlike any other item, anyone could share betel without the slightest of shame. Betel is offered to deities, the clergy and even devils and sorceress, seeking their blessings. During the New Year season, we exchange betel leaves to mark social acquaintances. Betel leaves have been an essential item in every aspect of life from times immemorial.

Bulath Malla and Hambiliya
It was customary to carry a 'Hambiliya,' a small bag filled with betel leaves and various condiments such as lime, catechu and tobacco, whenever our forefathers went on a journey. Some had bags made of cloth called 'Bulath Malla' to carry betel. It was normal for them to offer betel to anyone they met on their way. Offering betel had been a means of expressing cordiality and friendship. This custom is being continued in villages even today.
In the past, when the village headman (Vidane) and village level officers (Mohottalas) went on duty, the servants had to carry a Bulath Malla.

Betel during New Year
The betel leaf plays a pivotal role during the Sinhala and Tamil New Year. Offering of betel starts from the smallest unit in the society, the family. Elders in the family receive a handful or bundles of betel, each containing forty leaves. This offering is to forget all ill will, hatred, differences and disagreements during the past year, and to invoke blessings for building cordiality, friendship, intimacy and oneness during the new year.



Betel on New Year's Eve
In the eve of the new year, villagers offer betel to the priests, the native doctor, headmaster of the

village school and elders. These blessings are indeed important and indispensable for good fortune and prosperity throughout the new year.

Gifts wrapped with betel leaves
When gifts (especially cash) are offered on special occasions such as in events of sacrifices or when introducing the alphabet to children, they are wrapped with betel leaves.

Good fortune and prosperity
The betel leaf is a symbol of good fortune. It is used in festive events including at times of performing religious rites, visiting and receiving relatives and friends, in anointment, cooking the first meal and in setting off for work in the New Year.

Matrimonial affairs
The betel leaf is an essential item in matrimonial affairs. The closest members are invited for wedding feasts by offering a handful of betel leaves. Inviting ones relatives without betel leaves is likely to be taken as an insult.
The betel leaf is given a prominent place in almost all activities of a marriage ceremony. When the bridegroom visits the bride, it is customary that he be received by offering a tray of betel. On the wedding day, the oldest member of the bridegroom's party is received by the bride's party on behalf of her parents and family members by offering bundles of betel leaves. The most important item in the Poruwa ceremony is betel. Betel leaves make the marriage ceremony a joyous occasion.

Magul Poruwa
The bride and bridegroom are made to drop betel on the Magul Poruwa. This is done with the hope of making the marriage a prosperous one. Relatives of the couple exchange betel leaves from each other's trays.

Auspicious events
In auspicious events too, betel leaf is given prominence. Trays of betel leaves are kept in funeral houses with betel leaves turned upside down. Visitors are received by offering bundles of betel leaves. The pavilion constructed for chanting Pirith is decorated with betel leaves hung from the canopy. When people are possessed in devil dancing ceremonies, it is necessary that a tray of flowers called 'Malyahanawa,'consisting betel in addition to rice, coconut and red flowers, be there.
Betel is the most important item in all ceremonies involving children. When rice is first fed to a child, betel leaves (served on a plantain leaf) are kept round the meal. Also, when a child is admitted to school, a handful of betel leaves is offered to the school's headmaster.

Betel leaf in invitations
In invitations, betel leaves are offered as a mark of respect. When betel leaves are turned upside down, it indicates that the invitation is for an inauspicious or unfortunate event. When someone pays a visit to a friend or a relative, the first invitation of a villager is for a chew of betel. Treating someone with betel is not a difficult task that involves fat money.

Sharing betel
It is not a shameful act to share betel with anyone, either it be the rich or the poor, the known or unknown. It is believed that a chew of betel prevents several diseases including heart ailments. However, excess consumption of it could cause cancer.History records that Prince Wasabha's aunt had saved a life of a patient by sending a bag of betel leaves without lime. Another interesting tale about Gampolaya and Raigamaya tells us how Pepper leaves had been used as an alternative to betel leaves.

Betel cultivation
Betel plants grow in any part of the country. Areas like Gampaha and Weyangoda are famous for betel cultivation.

Varieties of betel
There is a special variety of betel called 'Nagavalli' which has white speckles on green leaves. This kind is used especially in exorcism. In addition to Nagavalli, there are other kinds of betel like Gasbulath, Garandi Bulath, Gata Thondu, Diya Bulath, Mahameru Bulath and Rata Dalu Bulath.

Bulath Atha, Bulath Hurulla and Bulath Vita
Bulath Atha or Bulath Hurulla is a handful of betel leaves (a bundle of forty leaves). Bulath Vita or quid is betel that consists of various condiments such as lime, catechu and tobacco. However, condiments like cloves, cardamom, nutmeg and Aralu can be added to make the quid of betel richer.

Betel during the Sinhala kings
During the reign of Sinhala kings, betel was given a prominent place. This is evident from the old betel dishes or shelves of areca-nut cutters and Chunam boxes seen in our museums. There is enough evidence to the effect that kings and noble men in ancient Sri Lanka had chewed betel. The messenger in the Royal palace had offered King Sri Wickema Rajasinghe a golden tray of betel consisting of at least twenty to thirty condiments.

Ill effects
According to evidence, betel had been brought to this world from the world of Nagas or the infernal region. It is believed that Naga King Anantha had brought the betel leaf in his mouth (it is believed that the stalk of the leaf had been poisoned as he held it with his mouth). It is therefore customary to tear off the stalk of the leaf before chewing. Afterwards, one must rinse his or her mouth well.
There is yet another story regarding the origin of betel. After drawing the picture of a hare in the moon, God Sakra had thrown the paint brush which got struck in Naga King Anantha's body and a betel leaf had emerged from the hood. Exorcism performers recite poems relating to the origin of betel.