---
The Marine sub-committee (MSC) of the Wildlife and Nature Protection Society (WNPS) has identified three distinct issues regarding the government's recent beach nourishment programme in relation to its possible adverse effects on the marine environment.
Sand extraction from this area without concern for these assets used as dive sites by recreational divers raises concerns about the possible adverse effects on the biodiversity

More permanent alternatives not considered
A beach nourishment programme commenced south of Mt Lavinia centred on the Kalutara Calido beach to restore severely eroded beaches. Action to correct observed erosion is considered necessary. Whether beach nourishment was the best option or not cannot be commented on as there is no information regarding any studies (modelling) of sand movement and the physical forces at work causing erosion.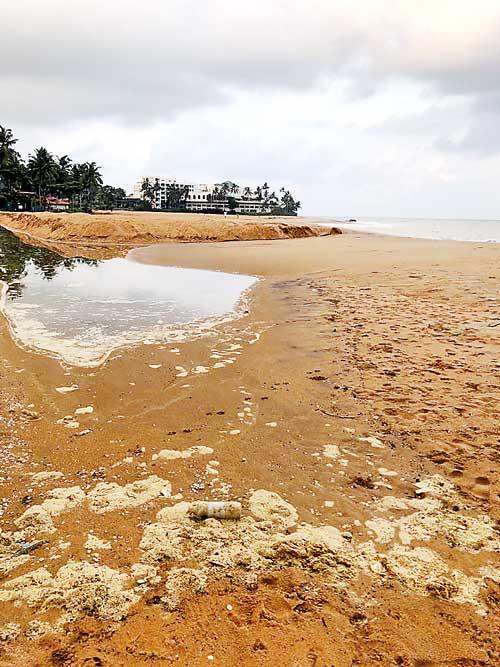 There are a number of structures parallel to the coast that have been erected in the past to control erosion. These are seen from Panadura to Moratuwa and also many north of Negombo. The question arises whether any alternatives to beach nourishment of a more permanent nature were considered before the recent programme was initiated. We wish to point out that boulders, put in British times, effectively protect the shoreline. An excellent example is the stretch of beach between Kollupitiya station and the Wellawatte canal which has been thus protected for well over a century. Why has this practice not been considered for some areas at least?

Mt Lavinia's unique identity lost
Beach nourishment north of the Mt Lavinia Hotel is difficult to understand as there has been no observed erosion in this section. No clear reason for this action has been made available. This stretch of beach was extensive used for public recreation. The rocky shore in the bay at the southern end was also a study area used by students—both school and university—for observing marine fauna and flora on the easily accessible rocks.

News items have been appearing of government proposals to widen the beach from Kollupitiya to Mt Lavinia. The proposal, for which no detailed information has been shared with the public, appears to involve filling in the 'lagoon' area between the so-called 'First reef' and the existing beach. This is sheltered water used by sea bathers in places like Wellawatte, south of the canal. Destroying these bathing spots without adequate reason would cause a lot of anguish to many. It is time the government shared its plans with Colombo's citizens and sought their views, bearing in mind that Sri Lankans too need places for their recreation as well as foreign tourists.

Threat to reefs and shipwrecks
The sand extraction location appeared to be very close to one of the shipwrecks in the area used as a dive site by recreational divers. The curfew prevented confirmation of the exact position which was estimated by the observed (from a distance) location of the dredger. But a subsequent study has shown that sand was extracted from an area south of the Medhufaru shipwreck, a popular site for scuba divers.

There are a number of reefs that parallel the coastline along Colombo and its suburbs, starting with the 'First reef' that is clearly visible with waves breaking over, to more distant and deeper reefs that range in depth from 14 m to 30 m, at distances of 1 km to 5 km from the shore. There are others too, the furthest being 16 km away, all running parallel to the coast, in addition to various other dome-shaped reefs scattered about. Within this area are five (5) shipwrecks and numerous dive sites on the closer reefs—such as on Palagala, Degal Meda and Vatiya Parai etc. These reefs support a wide range of fish, invertebrates, corals, including soft corals such as sea fans, and many seaweeds and other groups of animals such as the spectacular barrel sponges. Sand extraction from this area without concern for these assets used as dive sites by recreational divers raises concerns about the possible adverse effects on the biodiversity of these sites, which in turn will adversely affect an important existing industry serving both residents and tourists. We shall be making a proposal defining an area from where sand may be extracted with least concern to our underwater heritage.

Faulty coast conservation laws
Concern has been expressed as to whether there was an Environmental Impact Assessment (EIA) done or not. We are aware that an amendment to the Coast Conservation Act empowers the Director General to decide, on his own, whether an EIA should be done or not, for any coast conservation activity. In our view, this is a retrogressive step that makes environment protection and adverse socio-economic impacts on Sri Lanka's citizens unimportant. We feel that this legislation should be repealed and that EIA's be once more made mandatory.