---
A rainbow
Is a spiritual arch;
The symbol of renewal
Woven of light;
And you were the rainbow
Of your family.

Keerthi akka my namesake, was the rainbow in her family. Though in relationship she was my first cousin, I considered her as an aunt who inspired our whole family circle. I would correlate each hue of the rainbow to her endearing qualities.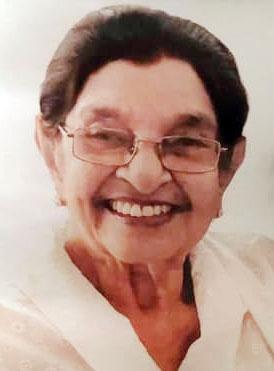 VIOLET for the elegance and regality
Of her dress sense,
INDIGO for wisdom, self mastery
And realization of spirituality,
BLUE for sincerity and inspiration
And calmness amidst the travails of life,
GREEN for harmony with nature's bounty
Of beautiful flowers and trees,
YELLOW for the reverence to the saffron robe
And to the teachings of the Enlightened One,
ORANGE for endurance
In reaching life's pinnacles,
And RED, for passionate love
Shared with her life's partner.

She tied the knot and migrated to Singapore the year I was born. My mother being very close to her, was very saddened by the void and so named me, also Keerthi. Thus we became Loku Keerthi and Podi Keerthi. A distinguished alumnii of Sri Sumangala Girls' School ,Panadura and the University of Colombo, she pursued the noble profession of teaching. I wish Sri Lankan students had the good fortune to have studied under her, but as fate would be, the Singaporeans were luckier to have such a dedicated teacher. Methodist Girls' School, Singapore, was the beneficiary of her passion and knowledge in teaching.

Keerthi akka was a devout Buddhist. All her Sundays were dedicated to the Dhamma School at the Lankaramaya where she enlightened the teachings of the Buddha to scores of children, until she was well into her eighties. Her beautiful house, was home to the many relations and friends who visited Singapore. After retirement she developed a passion for quilting. Her many creations adorned the walls of her home bringing colour and vibrancy.

She was a pillar of strength to her parents, Sudhu Amma and Winnie Mahappa as I called them. Her siblings Mahinda Fonseka, Manukula Fonseka, the late Ramsiri Fonseka, the late Indira Perera, Chandramali Wickramasuriya and Damsiri Fonseka were so blessed to have a "loku akka" who looked after the family like a mother.

Her marriage to Tilak Mendis was a fairy tale. They were such a matching couple, and "Lived happily ever after," was a fitting tagline to their wedding. Tilak aiyah predeceased her 25 years ago. She dedicated her life more to the activities of the temple after his demise.

To her children, Nimi Amarasuriya, Sharmini Premawardhana, Rohan Mendis and their partners who joined the family, it is a vacuum that cannot be filled . The immeasurable love and the knowledge she imparted will be etched in their memories for years. Keerthi akka celebrated her 90th birthday on the 19th of February 2019 amidst family and friends and passed away after a brief illness on 12th. April 2019.

A life of love, compassion and dedication, she left a legacy for all of us.
Keerthi akka, may we meet again in this journey of Sansara and may you attain the Supreme Bliss of Nirvana.
By Keerthi Wijekulasuriya