---
SASG never showed bias whatsoever on gender, ethnicity or religion issues during his professional life. He ensured that patients of all groups were treated fairly and equally in his unit
Dr. S.A.S. Goonewardena MBBS MS FRCS Dip Urol, Urological Surgeon passed away on the 10th of March 2020 at the age of 62 years. With that Sri Lanka lost a man who served his motherland and its people with distinction, honesty and commitment.

Serozsha Anura Sahadewa Goonewardena (SASG) was born in the southern port city of Galle and had his primary and secondary education at Royal College, Colombo. He was one of the few students who got a double promotion for his above average performance whilst in school. He was an enthusiastic table tennis player at Royal College. As we found later, he was a talented singer of classical English music. He displayed his musical talent every year after a round of scotch at the inauguration ceremony of the annual academic sessions of Sri Lanka Association of Urological Surgeons (SLAUS).
He was a one of the three founders of the SLAUS and became its President in 2008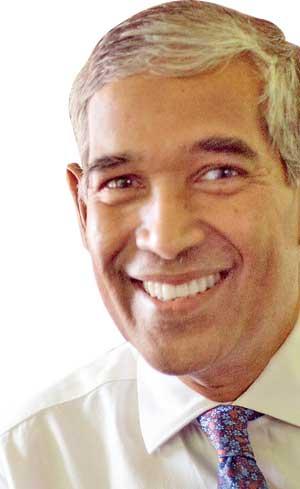 SASG entered the University of Peradeniya in 1977 and surprised everyone when he clinched a first class at the second MB examination as he never showed off his knowledge. He won the Chalmer's Gold Medal and C.B. Dharmasena Gold Medal for Anatomy, and was awarded a Commonwealth Scholarship during his third year when he visited the pioneering urologist the late Mr. Joe Smith in Oxford, UK. This inspired him to embark on a career in urology. He passed out with second-class honours at the final MBBS in 1982. Although the urological fraternity remember SASG's academic prowess while in the medical school, his batchmates at Peradeniya remember him for his humane qualities. During university holidays after the year-end examination, when everyone rushed home, SASG stayed back in the hostel to teach and help his batchmates who got referred at the examination.

Following completion of the Master of Surgery (MS) training programme, he embarked on a career in urological surgery and became the first urological surgeon in Sri Lanka to be board certified as a specialist by the Postgraduate Institute of Medicine in 1991. He was appointed as the consultant urological surgeon at Karapitiya Teaching Hospital, Galle for a short stint of two years. He was appointed to the Colombo General Hospital (the current National Hospital of Sri Lanka) as a consultant urological surgeon in 1993 and retired from this post in 2018. I started training in Urological Surgery in 1996 as his first postgraduate trainee. I remember SASG coming to the ward at 7.20 am every day for the ward rounds. Though it was challenging for us to get up so early, the morning ward round was a blessing for the ward staff as all decisions regarding patients were taken by 8.30 am and the staff could devote their time and energy for patient care thereafter. At the end of a gruelling full day operating list SASG would always do a quick business round in the ward to see the operated patients without fail. This ensured good post-operative care to the patients.
After his retirement he wanted to learn 'Abhidhamma' and during his life he was a true practitioner of equanimity and non-greed

His interest in research and record keeping was phenomenal. He understood the value of good research and writing when research was not a priority in Sri Lanka's medical curricula or teaching. He documented data of all cancer patients he treated and updated those records continuously. All those books are still stored in the cupboards of his ward at NHSL. Using those data, he produced many research papers. He inculcated his good qualities to his trainees through example and whenever I published an article, SASG was among the first few to read the article and send comments. He was never afraid to criticise even his best student but was very generous whenever he saw good research and writing. Even after his retirement he continued to publish and sent me useful articles whenever he came across such. He had a special penchant for history of surgery and urology in Sri Lanka. For several years he wanted me to prepare a bibliography of publications related to urological surgery in Sri Lanka. After laborious efforts over several months, we managed to finalise the script which was approved by SASG. The printers delivered the printed copies only on the 13th of March, two days after SASG's death. Most likely that was his last academic project and I am sad that I could not show the printed copy to him! All I could do was to give copies of the publication to his wife Sandhya, Sister Nevanka, brother Maitree and two daughters – Dilhani and Nadeeshani after the funeral was over.

He was a one of the three founders of the SLAUS and became its President in 2008. He was an avid reader who was up-to-date on knowledge in urology. Any scientific meeting in urology without his presence in the audience was a curry without salt! He was a prolific researcher and writer with publications in numerous national and international journals, and the Editor of the Sri Lanka Journal of Surgery, and the Sri Lanka Journal of Urology for many years. Many urological surgeons, surgical trainees, and medical and allied health students, have benefitted from his incredible knowledge and memory. He was undoubtedly one of the most academically inclined surgeons in Sri Lanka, and stood shoulder to shoulder with academics of the international community, who respected and admired him. Mr Mark Speakman, a past president of the British Association of Urological Surgeons, after hearing the demise of SASG sent a message saying "it is a very great loss to the world and especially Sri Lankan urology. I always felt he was one of the cleverest urologists I had ever met and such a wonderfully modest man". His dedication to whatever professional activity he took up was absolute. When he was a postgraduate examiner at MS (Surgery) part II examination and set the theory question, he cancelled private practice for one week and spent time correcting the answer scripts with diligence and attention. I am not aware of any such commitment by an examiner at postgraduate examinations in this country.

He was a kind, caring doctor who respected and gave dignity to our patients, immaterial of who they were. Many VIPs including presidents and ministers have been treated in his wards, and they all received the same treatment, as would any other citizen of our country, whoever they were or wherever they came from. SASG never showed bias whatsoever on gender, ethnicity or religion issues during his professional life. He ensured that patients of all groups were treated fairly and equally in his unit. On many occasions he reiterated to his trainees that the way to respect him as a teacher was to uphold and practice his key principles of altruistic patient care and rigorous research.

Though he was a tough disciplinarian he was very kind and sympathetic to all staff members of the unit and the operating room. He spoke to them with lot of respect and dignity. The junior level staff adored him and at his retirement day speech, he mostly thanked the junior level health care assistants showing he was a boss who believed in equity. He looked after his team through thick and thin – through childbirths, weddings, conflicts with other units, deaths etc. he was even better than a best friend or a family member in this regard. But one of the most important aspects that he was admired for was his honesty, integrity and values. If he believed that something was right, he would fight tenaciously for that, whatever the personal costs to him. His constant battle to challenge the administration against the practice of keeping prison hospital patients shackled to bed railings, and the demand from the government to ensure hospital beds for each and every patient in wards to eliminate floor patients, are some of the many issues he took up.

When I was the Senior Registrar in his unit there was a militant prisoner who was warded in the unit for urethral stricture surgery. When SASG came for the ward rounds, the patient was shackled to the bed. SASG refused to see the patient until the shackles were removed saying according to the Geneva convention and ethical practices of patient care, no patient should be shackled while medical care is given in a hospital. Though the prison officials were adamant stating that he was a very high-risk suspect, SASG did not budge. He went on to complain and raise this matter with the Director General of Health Services and the Commissioner of Prisons. That was his character and force for fairness. Throughout his professional life he wanted every state hospital patient to be given a bed. He never allowed 'floor patients' in his ward. In the latter part of his life he allocated some of the beds in his ward to another speciality as those patients did not have dedicated ward beds.

He had few idiosyncrasies that made him unpopular among the common on certain occasions. He was a perfectionist who would never compromise, and in this world of uncertainty and relativity, this was a thorn that irritated him throughout his life. He embarked on writing an exhaustive book on Sri Lankan Surgeons of the pre-independence era. He collected most of the information and documents necessary which was enough for an ordinary writer to complete the book. Being a perfectionist, he was not contended with that and the masterpiece never became a reality.

He adored his two daughters and called them the right and left eyes of his. SASG never wanted them to be famous professionals though they have done well to be a medical doctor in Sri Lanka and a microbiologist at Mayo's clinic, USA. All he wanted for them was to be fearless, honest and kind people who would help other fellow citizens.

After his retirement he wanted to learn 'Abhidhamma' and during his life he was a true practitioner of equanimity and non-greed. SASG never claimed extra duty allowances or obtained the car permit which he was duly entitled to during his entire career. I must say it is unheard of government officers in Sri Lanka not to claim the retirement car permit. When inquired about this, SASG said that his blue coloured Maruti 800 (19-4899) was still motorable though he had used it for over 25 years. What greater contentment can we expect from a Consultant Surgeon of this country! Due to his quality of non-greed and non-attachment, his mind was very calm even during his last days at the Cardiology ICU after developing an extensive myocardial infarction. Despite having several tubes and lines connected to his body and lying supine for several days, he never complained of any discomfort or resentment. He was calm and non-reactive which made me think how non-attached SASG was to his body and life. May he attain Nibbana!

Anuruddha M. Abeygunasekera
Urological Surgeon
Colombo South Teaching Hospital
E mail: amabey@sltnet.lk