---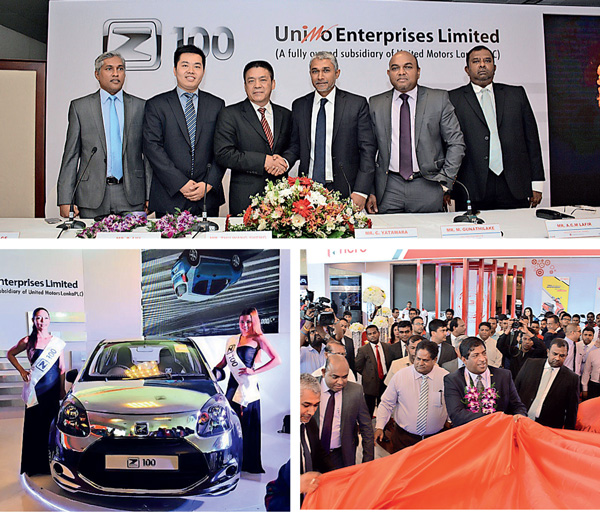 Unimo Enterprises Ltd (UEL), a fully-owned subsidiary of United Motors Lanka PLC, launched the Z100 at Colombo Motor Show 2016 held at the BMICH recently, amidst a large gathering of the public and media.

Z100 is a stylish, under 1000 cc car with key features such as power shutters for all four doors, power mirrors, electronic power steering (EPS), 14" alloy wheels, a fully digitalized instrumental cluster, a range of colours, best-in-class turning radius of 4.5 meters for easy manoeuvrability and best-in-class torque of 90 Newton meters for quick acceleration.

UEL has been working with the Zotye Holding group for the past eight years, with the intention of having a car produced that will be best suited for the Sri Lankan consumer. The intention of UEL and Zotye International is to offer an affordable car that has sufficient power for city and long distance travel and all the important options for comfort and ease of driving.

Commenting on the launch of the Z100, Group Chief Executive Officer/Executive Director Chanaka Yatawara stated that the group is very happy to introduce the Z100, bridging the gap the company had in offering an entry-level car to the market.

He further stated that in addition to the product, the company would also offer customers the ability to customize their vehicle appearance in a modern and trendy way while also offering customers added benefits such as a lifestyle loyalty card with over 40 merchants, dedicated relationship officers, special leasing packages to ease customers' purchase and most of all, workshop and spare part services from the company-owned seven branches which are strategically located in key cities in the island. The company would also maintain24-hour roadside assistance and services hotline should customers require assistance.
Commenting further, Yatawara stated that UEL will offer this product an attractive price of Rs.1,995,000 all inclusive to prospective customers along with a very attractive monthly leasing rental starting from Rs.25,410. Whilst the Z100 will be on display at UEL showrooms, the company will commence taking orders from the second week of November 2016.

Zotye International Regional Director Paul Liu, who is currently in Sri Lanka, said that Zotye is very happy to partner UEL as its local distributor and is confident that UEL will successfully market and distribute Z100 in Sri Lanka. Zotye International, which is amongst the top five Chinese automobile manufacturers, specializes in vehicle manufacturing, engine and transmission development, mold manufacture and steel stamping.

In 2015, Zotye International was ranked number three for self-owned brand by JD Powers, an American-based global marketing information services firm, which conducts surveys of customer satisfaction, product quality and buyer behaviour. Zotye also has several international quality accreditations to its name.