---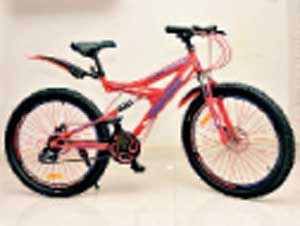 Faizal Hardware Stores, a leading Sri Lankan marketer of bicycles with over 30 years of history has introduced two new models under their flagship brand 'Kenton' (www.Kentonbike.com).

Kenton Spencer and Kenton Storm have invaded the local market within the short period since its launch. These two models have set a soaring demand island-wide by way of securing attraction and trust of children as well as adults. Enticing finish, strength, durability and reliability has led to their popularity amongst the customers.

Kenton Storm bicycle is produced with tires of a bigger size than that of ordinary bicycles. This makes it capable of traveling safely and easily even on rough surfaces. Kenton Spencer has been able to capture attention of the children to a great extent. It can be purchased with an assortment of colors and assured safety. Apart from these two new bicycle models, BMX, MTB, CITY, and HERO are the other categories under which Kenton bicycles are available in the market with over 20 models to choose from.

Faizal Hardware Stores is the sole authorized agent in Sri Lanka for 'Hero' premium brand of standard bicycles. Tricycles for kids are also available in different models. Kenton bicycles with over 500 sales agents island-wide,come with an excellent post-sale service. It is also to be noted Kenton bicycles come to you with a warranty of 11 years.