---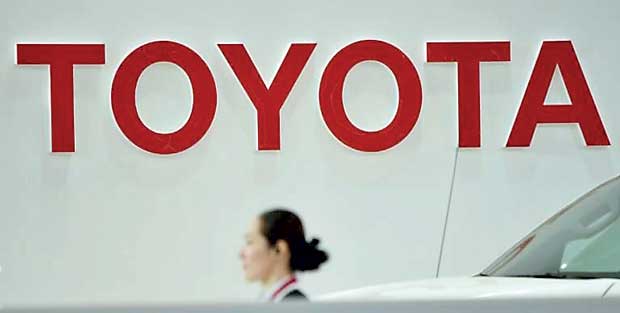 Japanese car giant Toyota on Tuesday revised its earnings forecast, saying it expected to see a record annual net profit thanks to a weaker yen and US tax cuts.

Japan's top carmaker expects to bank a net profit of 2.4 trillion Yen (US$22 billion) for the fiscal year to March 2018, up from its November estimate of 1.95 trillion Yen.

Annual sales are now forecast at 29 trillion yen, up from an earlier projection of 28.5 trillion, the Prius maker said.

In May, the company announced its first drop in annual profit for five years, which it blamed on the cost of customer incentives in the key US market. Toyota said net profit rose 40.5 percent to 2.0 trillion Yen for the nine months to December, on sales of 21.8 trillion Yen, which were up 8.1 percent.

Toyota officials said the profits were the result of several factors, including a weaker Yen, US tax cuts and company cost-cutting measures.
"In the US, the corporate tax cuts of 2017 resulted in a reduction in income taxes of 291 billion Yen," helping push up net income, Senior Managing Director Masayoshi Shirayanagi told reporters.

Executive Vice President Koji Kobayashi said Toyota was: "seeing the benefits coming from cost reductions faster than I thought."
Analysts also pointed to the effects of a weaker Yen across Japan's auto industry.

"So far, foreign exchange has been a positive factor for the Japanese auto industry, but it's hard to predict if the impact will continue as the Yen has recently become strong," said Satoru Takada, an analyst at TIW, a Tokyo-based research and
consulting firm.

"Foreign exchange will remain a decisive factor for the industry," Takada told AFP before Toyota's announcement.

The Yen recently advanced against major currencies on rising demand for the safe-haven currency as global markets were routed following a stellar 2018, and on worries about further hikes in US interest rates this year.

Toyota said global sales for the nine months edged up slightly from a year earlier, to 7.85 million units.

Operating profit from its domestic and European markets showed moderate gains for the three quarters.

But operating profit from North America more than halved because of a decline in sales as well as swelling incentives.

"Sales incentives are pressuring its operating profit in North America, where Toyota is still struggling to catch up with growing demand for SUV and pick-up trucks," Takada said.

Japan's auto industry is facing uncertainty over US President Donald Trump's drive to support US firms against foreign imports, fanning fears of a global trade war.

Smaller rival Honda Motor on Friday nearly doubled its annual net-profit forecast to one trillion Yen, citing strong growth in the sales of its cars and motorcycles, as well as US corporate tax cuts.

For the nine months to December, Honda's net profit jumped 82.8 percent from a year earlier to 951.6 billion Yen.

Nissan is scheduled to report its nine-month results on Thursday. It has downgraded its annual operating profit forecast after a damaging inspection scandal in its domestic market.
AFP