---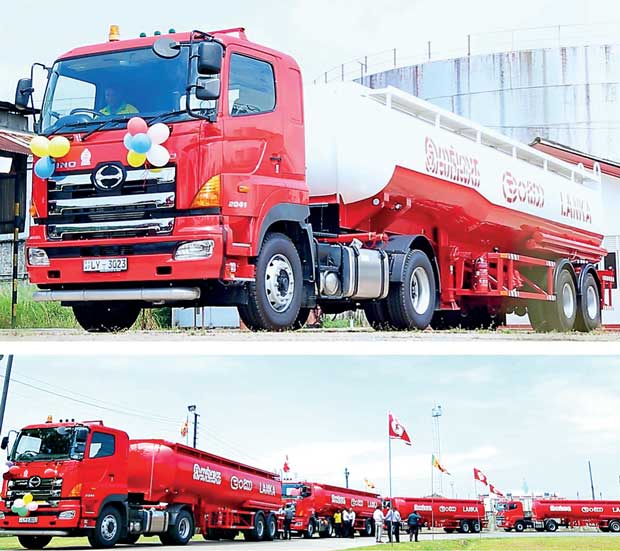 Toyota Lanka (Private) Limited, the sole authorized distributor for Toyota vehicles and Hino trucks in Sri Lanka, recently supplied the Ceylon Petroleum Storage Terminals Limited (CPSTL) with 10 brand-new Hino Prime Mover units.

These world-renowned transporters will facilitate in upgrading CPSTL's island wide fuel delivery network.

The official handing over ceremony was held at the CPSTL complex under the patronage of CPC and CPSTL officials. COO/Director Manohara Atukorala, Head of Sales Ashan De Silva and Hino Truck Division Manager Chandima Dahanayake represented Toyota Lanka at the event. Speaking at the event Toyota Lanka's COO/Director Manohara Atukorala noted, "Toyota Lanka and Hino are proud to be a business partner for Ceylon Petroleum Storage Terminal Limited to empower fuel transportation networks island wide. It is the high-quality and durability of the Hino range that won the trust of CPSTL, and we have been able to deliver customized Prime Movers as per the requirement. We look forward to a long term business partnership with CPSTL to further enhance the fuel transportation needs of the nation."

The consignment was the first ever importation of brand new Hino 700 series Prime Movers to Sri Lanka, and were customized according to the fuel transportation requirements of the CPSTL. In addition to this consignment, Toyota Lanka has also supplied Hino trucks to many state sector establishments and organizations, indicating the absolute on-road reliability that Hino provides to facilitate essential services driving the country.

The market leader among Prime Movers in Japan, the Hino Prime Mover is known for its combination of reliability, durability and comfort. With Japanese engineering and build quality, European levels of comfort, safety equipment and performance technologies; Hino, a subsidiary of Toyota Motor Corporation is the ultimate 'total solution' truck brand. With the ability to weather any condition and backed by Toyota Lanka's global standard after-sales care, experience an unprecedented level of total support for your business with Hino.