---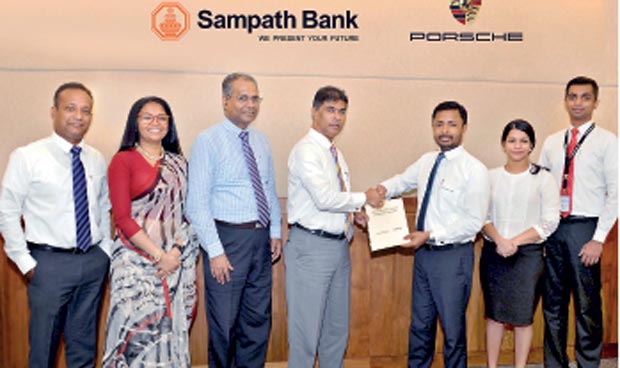 Sampath Bank PLC, one of Sri Lanka's leading private commercial banks, and Eurocars, the official agent of Porsche cars in Sri Lanka, have entered into a business partnership for the very first time to offer a host of benefits to their premium clientele.

The partnership will begin with a joint campaign, which will run under the theme 'Have You Driven a Porsche?' Eurocars and Sampath Bank customers will have access to special leasing packages, vehicle trade-in facilities and other thrilling benefits including the exclusive opportunity to test drive a car under the Porsche model range.

"Eurocars is privileged to partner with Sampath Bank as it provides us both the opportunity to offer a wide range of benefits to our customers and to further increase the possibility of expanding our reach in the premium market. We look forward to a fruitful partnership with Sampath Bank and expect that it will lead to immense benefits for both companies," said Eurocars General Manager Ravi Opatha.
"We are delighted to partner with Eurocars and indulge our customers with a host of privileges, including exclusive leasing solutions on the entire Porsche fleet. We invite our customers to avail the benefits on offer and drive away with these fine examples of German engineering," said Sampath Bank Senior Deputy General Manager Consumer Banking Tharaka Ranwala.

The Porsche Centre in Sri Lanka was established by Eurocars in 1996 and serves as a fully Porsche Corporate Identity-guided showroom and service facility for sales, service and branded merchandise. Eurocars is a subsidiary of the IWS Holdings group, which manages a varied portfolio of companies across aviation, automobile, communication and IT, food processing and packaging, industrial, leisure, shipping, warehousing and logistics, mass media and broadcasting.

Established in 1987, Sampath Bank has become a state-of-the-art financial institution that continues to be a market leader today thanks to its constant innovation and customer-focused approach to business. Its unique tailor-made solutions, superior services and convenience of access have allowed Sampath Bank to further differentiate itself from the competition and stand out as the bank of choice for many in Sri Lanka.