---
Laugfs Lubricants Limited announced the launch of Laugfs Eco Cool+, a ready-to-use premixed, antifreeze Green Engine Coolant with "Intelligent Molecular Technology" in Sri Lanka.
This innovative product serves to offer optimum and long-lasting protection for the cooling system metals of motor vehicles by effectively and quickly identifying corrosion initiation sites and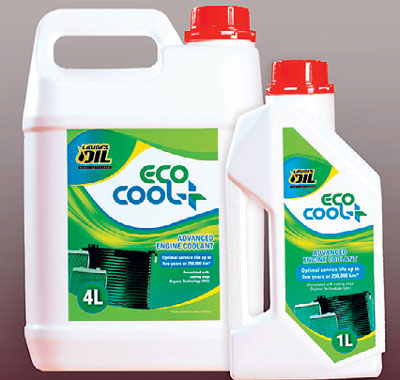 neutralising the electrons, which causes rust and corrosion.These "intelligent molecules" that attract only to corrosive sites, allow maximum heat transition, which is the primary function of a coolant.
"We are delighted to bring in another superior product to our local consumers with LAUGFS Eco Cool+," commented Laugfs Lubricants Director/CEO, Dr. Gamini Amarasekara, speaking at the launch of this ground-breaking innovation to the market. "As a Sri Lankan company, and a pioneer in our industry, we are extremely pleased to provide another innovative solution to our local consumers under the Laugfs brand".
Laugfs Eco Cool+, marketed by Laugfs Lubricants, is designed and formulated with cutting-edge Organic Acid Technology, also known as OAT. This provides strong protection for coolant system metals against rust and corrosion without inhibiting heat transition from the metal surface. This serves as the main difference between Laugfs Eco Cool+ and conventional coolant technology, where the corrosion protection mechanism involves indiscriminately covering the entire metal surface to protect it from corrosion, which results in inhibition of heat transition from the surface. The new Laugfs green engine coolant also provides superior balance of protection against freezing and overheating, with faster cooling down of the engine.
It is specially formulated to provide long-lasting protection for vehicles with a service life up to 250,000 km or five years, whichever comes first. Moreover, it is designed to deliver an optimum cooling system operation by protecting the coolant system metals and allowing heat transition efficiency to be maximised. "Engine coolants help alleviate the engine heat caused by combustion, which could otherwise seize up the engine, resulting in expensive repairs. While protecting against corrosion of the cooling system, these products play a significant role in maintaining the efficiency of a modern engine. Therefore it is very important to select the right coolant product for optimum protection and performance," explained Dr. Amarasekara, a veteran scientist in Tribology.
Laugfs Eco Cool+ comes in one litre and four litre SKUs and will be suitable for all vehicle types, including Japanese, European, American and Korean models. This ready-to-use premixed antifreeze coolant is available for motorists at all leading service centres, garages and oil shops island-wide. Established in 2008, Laugfs Lubricant Limited is a subsidiary of Laugfs Holdings. It is the first Sri Lankan company to introduce a local lubricant product range under the brand Laugfs Oil, offering a unique range of solutions for all classes of motor vehicles and industries. It has since become a trusted name among local motorist, renowned for its modern cutting-edge technology and international industry standards.