---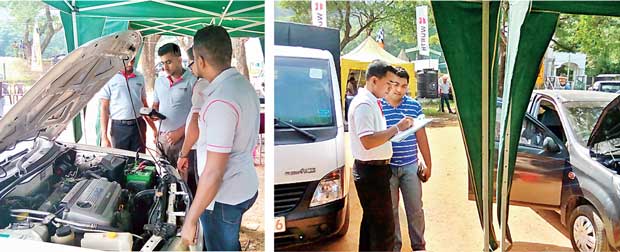 Laugfs Car Care, a division of Laugfs Lubricants Limited, recently conducted free complete systematic vehicle inspections applying modern techniques through its car care clinic for motorist at Kurunegala.
Held at the Maligapitiya Ground in Kurunegala, the clinic was carried out with the aim of extending the technical expertise in vehicle maintenance of Laugfs car care towards customers in the surrounding area.
Further explaining about this initiative, Laugfs Lubricants Director / CEO, Dr Gamini Amarasekara said, "The systematic vehicle check-ups using advanced techniques were especially beneficial, as vehicle owners were able to identify and diagnose any necessary repairs and maintenance requirements to their modern new generation motor vehicles through the free inspection reports provided. The correct diagnosis of maintenance requirements in modern sophisticated vehicles is paramount to get the maximum efficiency and durability of these vehicles. This will not only save money and time of the customer but also saves a lot of foreign exchange. All vehicles were thoroughly inspected by our highly trained and skilled team of expert technicians. At the completion of the comprehensive vehicle check-up, customers were also given the opportunity to interact with the Laugfs highly trained technicians and augment their knowledge about vehicle care and maintenance." In addition, Laugfs Car Care partnered with some renowned car care product brands and services together with cutting-edge technology products offered by Laugfs Lubricants. Participants of the Car Care Clinic were also provided with free car washes and 50 percent off on full vehicle services that could be redeemed at the recently opened state-of-the-art Laugfs Car Care Centre in Dambokka, Kurunegala.
"The Laugfs Car Care clinic came to Kurunegala with a brand new advanced car care service centre to offer a range of on-site vehicle maintenance services. We understand the requirements of our customers as well as technology needed for modern vehicles and have customized our service offerings to suit both requirements," Dr. Amarasekara further remarked. "We are delighted with the positive response received from local motorists and plan to extend these advanced systematic inspection services through Laugfs Car Care clinics to other key cities across the country in the near future."
Established in 2000, Laugfs Car Care has expanded rapidly with a network of service centres, including a modern hybrid centre to exclusively cater to hybrid and electric motor vehicles. It employs a highly trained and professional team of experts to offer a complete range of services for all types of vehicles, from a basic exterior wash to high-tech service offerings. Renowned for expert knowledge, state-of-the-art technology, and uncompromising service standards, Laugfs Car Care has become a trusted brand among local motorists. Its network of service centres continues to grow rapidly, with a number of centres to be added soon in the near future, including a brand new outlet in Kalagedihena to cater to the needs of motorists in the Gampaha area.