---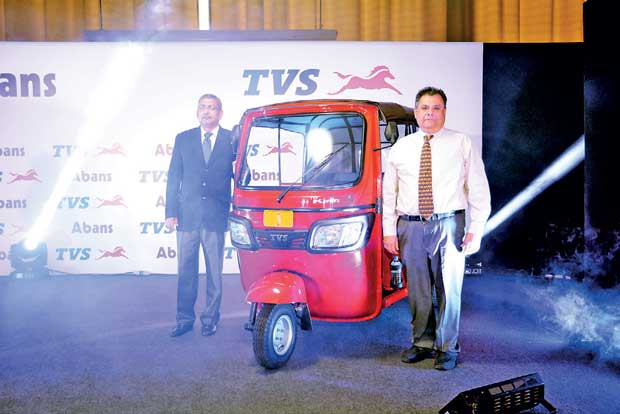 From left: TVS Motor Company Senior Vice President International Business R. Dilip and Abans Auto Managing Director Behman Pestonjee unveil a TVS three-wheeler to mark the occasion
Pic by Pradeep Pathirana
TVS Motor Company, a leading two-wheeler and three-wheeler manufacturer in India, announced its partnership with Abans Auto, a leading automotive retailer in Sri Lanka.
This tie-up has resulted in the reintroduction of TVS King – the first 200cc three-wheeler, into the Sri Lankan market.
As part of the agreement, the company will leverage the Abans network of over 2000 showrooms and appointed dealers in strategic locations around Sri Lanka. Furthermore, through Abans Finance the potential customers can be provided with affordable financial packages towards the purchase of their TVS King three-wheeler.
Commenting on the partnership, TVS Motor Company Senior Vice President International Business R. Dilip said, "Abans is a respected and trusted brand in Sri Lanka. Their auto subsidiary, Abans Auto, has an unrivalled distribution of 1500 showrooms and touch points across the country.
Known for providing superior customer experience in sales and service, it is an ideal platform for TVS King to gain acceptance in the country. At TVS Motor Company, we place immense focus on customer centricity and quality and we are confident that we have partnered right for our foray into Sri Lanka.
TVS King is ideally suited for Sri Lankan conditions and is far superior to any other competing product. Affordably priced, together with the financial assistance given to prospective buyers through Abans Finance, we are confident that it will market well in our country."
TVS King, a futuristic three-wheeler having a good combination of power, style, comfort and fuel efficiency, is designed for today's cities. TVS King is powered with an efficient 200cc, modern low-friction seven-port engine having a peak torque at lower rpm, which allows it to climb hills easily and enables the vehicle to be driven through congested city traffic without frequent gearshifts. This innovative engine operates at lower rpms for a given road speed, thus improving the fuel efficiency and reliability of the engine.
The TVS King three-wheeler comes equipped with a hand-operated rear gear shifter, a unique feature not available on any competitive product. This feature further enhances the driver's comfort, which greatly enhances the appeal of the TVS King three- wheeler. Along with this feature, the TVS King three-wheeler has powerful twin head lamps (35 watts) with bigger and brighter rear tail lamps and has a single large laminated glass windshield.
Attractive and spacious interiors further add to the styling of the vehicle, which include a car-like dashboard with fuel-level indicators and mobile phone charging socket, dual-tone high-quality seats and an integrated bumper. The TVS King three-wheeler comes equipped with a standard electric start that further reduces driver fatigue. The vehicle also has better head and legroom for both the driver and passenger while the suspension and seats are positioned so as to provide a superior ride for a longer duration. Available in three models of Basic Model — GS, Fully Loaded Model — FLD and Fun Bread — FB, the TVS King three-wheeler is priced from Rs.691,850 and is available in six-colour variants of red, green, blue, black, yellow and white can be purchased from all Abans Auto showrooms islandwide.