---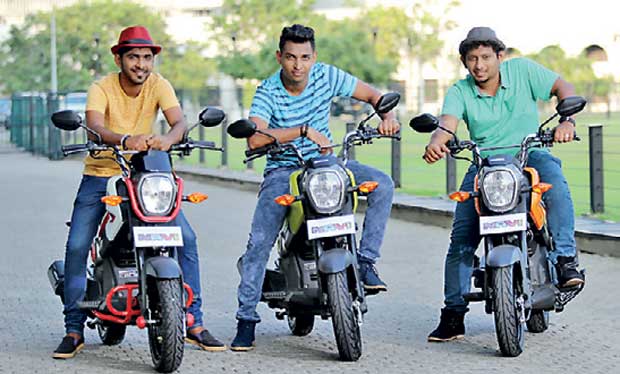 Honda's stunning new two-wheeler is the changeable bike, the Navi scooter-motorcycle with the exciting 'attach-detach' concept.
Changeable attach-detach possibilities are many: body panels, wheel hub cover, crash bars, knee guard, sari guard, headlight guard, pillion rider handle, body graphics, headlight cowl, tinted headlight visor, cabby (luggage) box to carry your laptop and your other work or leisure stuff.
The Navi is available in five vibrant colours – red, black, white, orange and green. A rider could choose to have any colour combination of bike and accessories.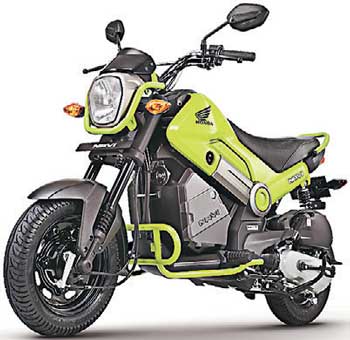 The Navi is designed by Honda Motorcycles and Scooters India with technology from Honda Motor Company Japan and is based on the tried and proven platforms of its siblings the Dio and Activa, both well known for their ruggedness, cutting-edge technology, excellence of assembly and fuel economy (a road tested Activa returning 82 km/l under real conditions). Carefully considered for weight and size the Navi is easy to handle and is ideal for girls and guys. The Navi comes with tubeless tyres, maintenance free battery and bullet-proof Honda Eco Tech (HET) reliability, as easy as plug-and-play. In addition, the Navi is covered by the usual comprehensive Stafford-Honda warranty of two years or 24,000km.
Stafford Motors Director/COO Charaka Perera said, "The Navi is youth driven and full of young ideas. The Navi is creative, fresh and bold. At last, the youth have a bike they can do up as they like. By changing the dress of the Navi you could match clothing or footwear or your mood, and you and your Navi would stand out in a crowd. The Navi is the only bike which offers this changeability concept." So unique and exciting is this concept that Honda's Navi is a triple award winner in India - 2017's Mini Bike of The Year, Best Two-Wheeler Design of the Year and Two-Wheeler of the Year.
Automatic, 110cc, zippy, changeable, fun and full of go, the Navi is for the young, funky, hip spirit and is affordable and economical - the ideal fit. Inspirational, desirable, sporty, easy to maintain, your Navi is the unique mix of the maturity of Honda's engineering technology and the freshness of the made-for-you design concept.