---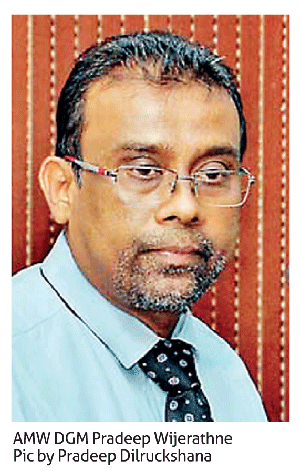 By Chandeepa Wettasinghe
Associated Motorways (Private) Limited (AMW), the local agent for Nissan, said that the government should revisit the duty brackets for electric vehicles, in order to ensure that the new models of the popular Nissan Leaf will continue to be imported in the future.

"The new Leaf model will cost around Rs.8.5 million. There will be Rs.2.75 million in duties and the vehicle cost is around Rs.4.8-5 million. So who's going to purchase a brand new Leaf at this price? Do we have a market here?" questioned AMW Deputy General Manager Pradeep Wijerathne.

The 2018 budget slashed duties on new electric vehicles and pre-owned vehicles less than one year old by one million Rupees, in order to promote ownership of electric vehicles, as a first step to ensure that only electric vehicles would be on the road by 2040.

Further, all government vehicles were required to become hybrid or electric vehicles by 2025.

Duties on electric vehicles with 50-100kW motors, which includes the old 80kW Nissan Leaf being phased out of production, were cut to Rs.12,500 per kW from Rs.25,000. The new 2018 Nissan Leaf, with a 110kW engine, falls in the next bracket of 100-150kW with a duty of Rs.25,000 per kW which fell from Rs.40,000 earlier.
Therefore, by end-2018 there will be no more older model Nissan Leafs with an age of less than one year for import at the lower tax structure.

"The government should reconsider the tax brackets if it wants to really go for the green economy without importing any more cars running on fossil fuels. So maybe the bracket should go from 50-150kW and so on," Wijerathne said in conversation with Mirror Business. Even with such an arrangement, the new Leaf model would sell at just over seven million Rupees. The new Nissan Leaf has a range of around 300-400km according to the manufacturer, compared to less than a 200km range of the older models.

The range differs depending on road and traffic conditions, and in Sri Lanka, the maximum range for a Leaf falls significantly.

The Vehicle Importers Association of Lanka (VIAL), which is a group of pre-owned car importers of which AMW is not a part of, recently said that Nissan Leaf is the most popular electric vehicle in Sri Lanka, with the attempts to introduce electric vehicle varieties from China and the West to the mass
market failing.

Of over 4,500 electric vehicles in the country, around 95 percent are Nissan Leafs. A recent poll by the EV Club noted that 74 percent of electric vehicle owners use their electric vehicle as their primary vehicle.

Nissan had so far refrained from importing the Leaf brand new to Sri Lanka due to the lack of infrastructure in Sri Lanka for electric vehicles. However, following testing of Leafs in Sri Lanka, Wijerathne said that Nissan has agreed to sell Leafs in Sri Lanka. "Nissan is willing to bring down the vehicles next year. There's no doubt about that," he said, when questioned whether the required infrastructure is now in place.

VIAL recently said that a vibrant ecosystem to service and repair electric vehicles and batteries locally had cropped up due to the ingenuity and entrepreneurship of local stakeholders, in the absence of support from Nissan. This lack of support had also seen electric vehicles being charged high insurance premium.

Meanwhile, electric charging stations of varying standards and pricing points have popped up across the island, and the Public Utilities Commission of Sri Lanka last month decided to exercise its power to regulate this industry and ensure consumer rights are protected.

Further, the recent budget outlined the government's intention to facilitate the establishment of 63 solar powered charging stations across the country to completely cater to the local demand. Lanka IOC PLC already has plans to set up a dozen such solar powered charging stations.