---

Malkey Rent A Car took over the delivery of Sri Lanka's first Mercedes-Benz Vito 116 luxury passenger van with a custom interior offering Business Class ottoman seats with 3 point seat belts and an Android enabled multimedia system among many 'firsts' on offer to the Sri Lankan travel industry.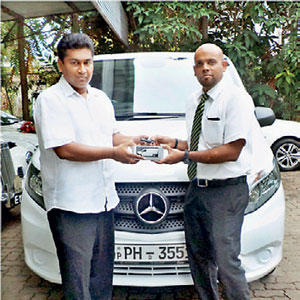 Offering tangible external strengths, great intrinsic values, maximum benefit and low costs, the new Mercedes-Benz Vito is the versatile and real professional among mid-size vans with a permissible gross vehicle weight between 2.5 and 3.2 tonnes.
From skilled crafts and trades to retail, service providers, shuttle services and taxis – the new Vito is truly one vehicle for all. The Vito cargo van is the only model in its class available in three lengths and with three different drive systems. With up to 1369 kg of cargo capacity, it has the highest payload in its class.
Meanwhile the Vito Mixto featuring a crewcab combines the advantages of a van with those of a crewbus. The new Vito passenger version sees Mercedes-Benz opening an entirely new chapter in passenger transport. There are three versions available: the functional and rugged Vito Tourer BASE, the versatile Vito Tourer PRO and the premium. By virtue of this complete model family, the Tourer can be tailored to accommodate all types of passenger transport.
Diesel & Motor Engineering PLC (DIMO) introduced the new Mercedes-Benz Vito to Sri Lanka recently. The first new Vito cargo version order was placed by DHL Sri Lanka and the bright yellow coloured Mercedes-Benz vans are already in operation. The first new Vito passenger version order was placed by Malkey Rent A Car, and it was a special order. They took delivery of a Vito Mixto which is the extra long wheel base version and with even more luxury than the existing Mercedes-Benz passenger vans.
The vans are equipped with the 7speed automatic transmission with Tiptronic paddle shift and capable of carrying up to 10 passengers in luxurious comfort. Moreover enhance safety features such as driver drowsiness detection, cross wind assist, brake assist, traction control and LED intelligent lights are also packed in this Mercedes-BenzVito.
With these deliveries Vito enters the tour and transport market in Sri Lanka with unrepelled reliability, luxury and efficiency. Mercedes-Benz Vito can provide solutions to world class level cargo operations and passenger operations such as Malkey Rent A Car.
With over 40 years of experience in the field Malkey Rent A Car is one of the largest and most modern and varied fleets in Sri Lanka. In recent times, Malkey has been of service to personalities like Professor Philip Kotler, Ratan Tata and celebrities such as Hrithink Roshan and Lara Dutta. Royal dignitaries such as. Prince Faisal of Saudi Arabia, H.R.H. Princess Alexandra of Denmark and many other notable personages traveled with them on their visits to Sri Lanka. Malkey Rent-a-Car has also partnered with International events including Miss Universe Sri Lanka, Femina India and the Colombo Fashion Week (CFW) as the official transport provider.
Mercedes-Benz commercial vehicles have been playing a dominant role worldwide in providing efficient reliable transport solutions, now the best businesses in Sri Lanka have the same opportunity. Visit DIMO's new Mercedes-Benz center to experience the new Vito for your passenger or cargo requirements.