---

Porsche Asia Pacific Managing Director Martin Limpert (left) and Eurocars (Pvt.) Ltd, Chairman Arthur Senanayake (right) along with the car
Pic by Waruna Wanniarachchi
By Zahara Zuhair
The all-new Porsche 718 Boxster model is all set to hit the Sri Lankan roads, following its introduction by Eurocars, the official agent for Porsche cars in Sri Lanka.
What is special of the new car as noted were, it offers even more sportier and more dynamic driving experience through an enhanced optional sport chrono package which includes the 'Mode Switch' and 'SPORT response button'.
The other cars introduced were Porsche 911 Turbo, 911 Carrera 4S Cabriolet, Panamera GTS, Cayenne GTS, Cayman GTS and the Macan GTS.
Along with that they also introduced the first-ever Porsche experience with a series of driving events with a total of nine sports cars, which will kick start from this week in Katukurunda.
Noting that Porsche cars were made to win races, Porsche Asia Pacific Managing Director Martin Limpert said, the new 718 Boxster comes with two-itre engine displacement delivering 300 hp while the 718 Boxster S version is equipped with 2.5 litre delivering 350 hp.
He said that the chassis have been re-engineered and the new model comes with the enhanced Porsche communication Management.
Eurocars General Manager Ravi Opatha said the unique features of this cars are its specialised lights, the new door handle, and the luggage space. He said that the cars are much faster and superior, adding that they offer five-year warranty.
As the cars' performance is high and made to suit European conditions, Eurocars (Pvt.) Ltd, Chairman Arthur Senanayake assured that it suits the Sri Lankan roads and conditions as well.
When it comes to infotainment and connectivity, it was noted it offers a 7-inch multi-touch screen, mobile phone preparation and sound package plus.
It also was noted that the cars will be priced at Rs. 19,900,000.00 onwards.
Eurocars, a subsidiary of IWS Holdings, which has been the sole authorised agent for Porsche cars for past 18 years.
---
Customer satisfaction our top priority: Porsche Asia Pacific MD
Martin Limpert is the Managing Director of Porsche Asia Pacific. German-born Limpert is responsible of managing the importer network in thirteen markets within the Asia Pacific region. Limpert has spent the last ten years at Porsche AG with extensive experience in marketing and sales. Following is the full text of a brief interview Mirror Business conducted with Limpert.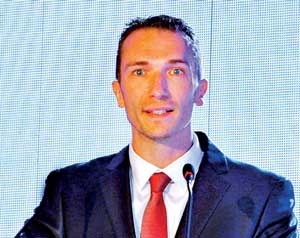 What is the potential Porsche as a high-end automotive brand sees in Sri Lanka, which is a lower-middle income country?
Porsche Asia Pacific covers 13 markets, among the larger ones such as Indonesia, Malaysia, Singapore, the Philippines, Taiwan and Thailand. We are also present in Brunei, Cambodia, French Polynesia, Mongolia, New Caledonia, Sri Lanka, Vietnam. One of these markets could be in the future become one of the largest markets in the region. Building, positioning, sharpening the brand, giving outstanding purchase and ownership experience will require time, and we are already starting early.
Porsche is believed to be planning to introduce several models to the Sri Lankan market, including the 718 Boxster. What prompted
such a move?
Porsche is clearly perceived by the public and media as the sports car brand, producing reliable everyday sportscars. Today Porsche produces wider range of cars other than the iconic 911, with the Panamera, Macan and Cayenne, and the aim is clear to be the sportiest in every segments.
Porsche newly rebranded the Boxster and Cayman to the 718 Boxster and Cayman. The Porsche 718, where the name came from, has a long history on the racetrack, claiming many racing victories by the mid 1960s from the Targa Florio to Le Mans. The new 718 Boxster range carries on the fighting spirit of the original Porsche 718 with inspired pride and fierce conviction. We are putting our effort to build the culture of sportscar even further here in Sri Lanka by introducing the 718 range.
How capable is Porsche agent in Sri Lanka in providing the after-sales services to prospective Lankan customers?
The Eurocars after-sales team consists of one Gold, one Silver and bronze certified technicians. This is a testament to the high standard of Eurocars after-sales services. Modern, high quality PIWIS testers with updated software and other facilities and services.
Our principle and focus is outstanding purchase and ownership experience, so definitely customer satisfaction is our top priority. We are putting heavy emphasis on customer study and customer retention management. The customer satisfaction index for our region, combining both purchase and after sales survey result is at a very high level but, we always try to improve.
What are Porsche's immediate and mid-term expansion plans in
Sri Lanka?
Eurocars (Pvt) Ltd., the agent for Porsche cars in Sri Lanka has maintained a lot of focus on the SUV market in previous years mainly due to the road conditions and functionality reasons.
We have new models such as the compact SUV Macanthat is already a top seller worldwide, but at the same time, we put our energy to build the sports car culture and sharpen the Porsche brand in the new markets, focusing in products like our iconic 911 and the mid-engine 718 Boxster and Cayman.
But with the local launch of the new 718 Boxster, Eurocars intends to add priority to introduce the sports car as well, since there is a significantly growing demand for sports cars among the high-income segment in Sri Lanka.
How many Porsche units are already sold in Sri Lanka since the establishment of a Porsche showroom in the country and how many units you are looking to sell, beginning from 2017, per annum?
Eurocars has sold nearly 200 units since its inception. This is a relatively good number for a growing market like Sri Lanka. On one of our best years, delivering more than 30 units so we would look forward to be better than our record year in Sri Lanka.
How do you want Sri Lankans
to perceive Porsche brand
going forward?
We have strong roots in motorsports and brand heritage or values that we hold very much. These are the foundation and essence of our communication.
We believe that the best way to feel our brand is to put the customers behind the wheel.
The focus of our activities is sporty driving where we showcase our engineering highlights, after all, we are Porsche and part of our company name includes the word engineering.
So this is where we come from and this is our emphasis. Motorsports also belongs to our genetic code. In our region, we also have the Porsche Carrera Cup Asia, which is our one make series. Other than that, Porsche Sports Driving School, Porsche Travel Club and most importantly the independent Porsche Clubs are the best tool in conveying our brand values. The members are our brand ambassadors and they carry credible messages out of their own experiences.