---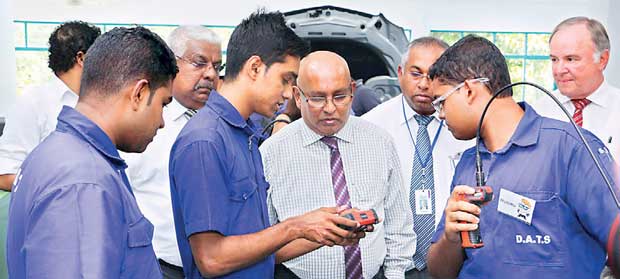 The art of apprenticeship is not a very common aspect of tertiary education in Sri Lanka as of current and emphasizing the significance of providing youth with the opportunity to excel in applied work rather than just theoretically providing a means of education and letting them go aloof without the necessary skills needed for them to be able to secure stable jobs and to enhance
their livelihoods.
With this context in mind, we find Diesel and Motor Engineering PLC or DIMO as its best known, has become one of those places to have instigated an exercise with the aim of empowering youth with the prospects in the automotive industry and offer them the opportunity to attain a vocational qualification that would pave way for them to bigger opportunities in life.
The company therefore initiated the DIMO Automobile Training School (DATS) in 1990 in Colombo and since then, a batch of 16 students would be chosen after an extensive admission process comprising of an exam and an interview to determine their suitability for the course. It was disclosed that the next intake has been planned to be increased to 20 students each for the institutes in Jaffna and Weliveriya, making it a total of 40 students in all.
"Before DATS was initiated 26 years ago, finding people with the right skills was a challenge," DIMO Chairman and Managing Director, Ranjith Pandithage said. Pandithage further emphasized that not only was the industry short of skilled people but a lack in English proficiency was also an issue. So, with DATS, the curriculum which is specifically assembled by Mercedes-Benz is also conducted in English and this aspect of the course is most importantly encouraged amongst the institute's students. The course is offered free of charge as well as with all necessary facilities and resources such as work overalls, food and accommodation etc.
DATS runs a two year vocational training course in Automotive Mechatronics, educating students in modernized aspects of car mechanics and exposing them to the most modern automobile technologies in the world.The students receive a professional learning atmosphere with industry standard equipment and qualified lecturers and budding automotive enthusiasts will experience a seamless foundation for an ambitious career in the field of automotive engineering.
DATS in Jaffna was opened in 2010 after what felt like a wake-up call. Post-war Jaffna encompassed educational institutions that lacked in resources and were encountering fallen standards as well as prospects for youth in the area."We realized that we could help bring about a much needed change to the lives of youth in Jaffna as well by offering this course.
DATS Jaffna became the very first school to be initiated by a private company after the end of the war and even helped in reorienting youth who were directly influenced and affected by the civil war that engulfed the country until its end in 2009. "Our focus was always never inclined towards generating profit but to give something back. As we aimed to create people with the best automotive skills, we wanted to form the right track in building capacity and with the constant change in technology and the advancement in automotive technology, the state-of-the-art training facilities would only bring benefit to youth who look to further a career in the automobile industry," Pandithage remarked passionately.
DATS is registered with the Tertiary & Vocational Education Commission. The DATS syllabus is accredited with NVQ Certificate level IV.