---
Senok Automobile (Pvt.) Limited, the sole agent for Audi in Sri Lanka, recently invited an experienced AUDI AG Flying Technician, to provide their customers with personalised input on their Audi vehicles.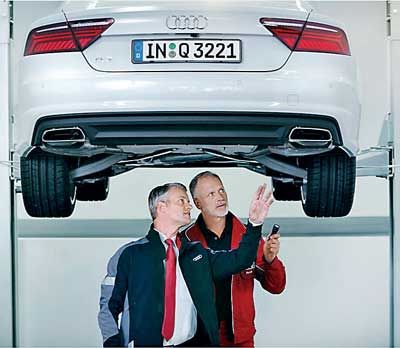 Christian Holzapfel, an Audi Flying Technician provided detailed car care and technical advice to Audi customers in Sri Lanka at the Audi Workshop in Wattala.
Upali Ekanayaka, General Manager at Audi workshop said, "We are pleased to have Christian with us for a period of one week. His wealth of expertise allowed us to better understand minor concerns our Audi customers have. This kind of international expertise allows Audi owners to receive world class care for their cars at the authorized Audi workshop. Christian will take this opportunity to train the Senok Audi staff on the latest equipment and tools to stay on par with global Audi technological developments. The Flying Technician for Audi importers and dealers worldwide is a great additional service from AUDI AG. Service quality and customer satisfaction are Audi Sri Lanka's top objectives".
"At Senok Automobile, we are constantly looking at ways to improve the Audi experience. That is one of the main reasons we hope to invest approximately one billion rupees in a brand new showroom and upgrade our workshop to keep it in line with global Audi standards to best serve our customers. We intend to have both units operational by 2018, ensuring that all Audi AG guidelines are met to serve our customers in the best way possible" added Ekanayaka.
Speaking about his first visit to Sri Lanka, Christian Holzapfel said "Having been with Audi for over twenty seven years, I am happy to share my knowledge on this wonderful and efficient machine. As a Flying Technician, our aim is to create quick links between our local partners and Audi AG. I am pleased to say that during my visit to Sri Lanka we haven't seen too many major problems with regard to the performance of Audi vehicles. Most issues and concerns are minor and completely solvable."
With German precision at its core, Audi works with their local agents to ensure the best of service in a standardised manner to Audi owners.