---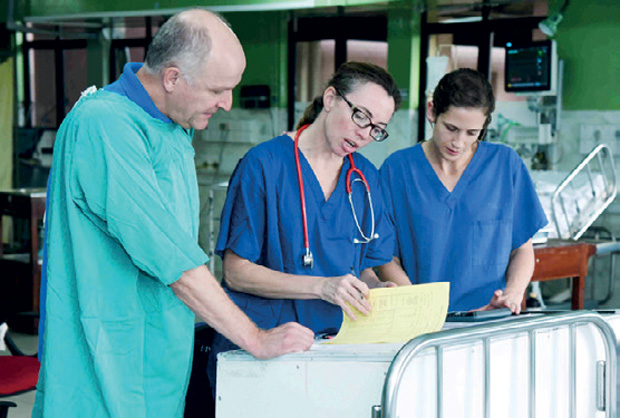 The Intensive Care Unit of the Karapitiya Hospital, Galle

When inquired about how critical the health condition of children diagnosed with heart diseases in Sri Lanka is, Heart Surgeon Dr. Conal Austin of the Mercy Mission medical team says as a doctor specializing in children with congenital malformations of the heart which are also known as Congenital Heart Defects (CHD), a structurally abnormal heart, what he sees in young patients is quite different from what other heart surgeons see in adult patients who have developed disease of the coronary arteries or the disease of the aortic valves.

"The children we operate are born with malformations of the heart. There is a multitude of different types of malformations of the heart, and the ones we see here are often related to obstructions of the blood flow to the lungs which makes the children blue. We have been focusing on improving the blood supply to the heart and closing holes inside the heart in most of the operations we have carried so far. We are hopefully of operating twenty patients over the next seven days. Up to now, we have conducted ten heart surgeries," Dr. Austin said.
Newborns are one of the commonest groups diagnosed with malformations of the heart

Speaking to the Daily Mirror, Cardiologist Prof. John Simpson who plays a proactive role along with Dr. Austin in conducting heart surgeries said that in most cases it was unknown as to why a child may be diagnosed with a malformation of the heart although in some cases the reason may be related to a genetic condition.

"For an example, about half the children with Down Syndrome are diagnosed with a malformation of the heart. Therefore, we can explain the heart condition of a child with Down syndrome. As for genetics, many children don't have an obvious genetic condition. Ailments run in families, sometimes in which case malformations of the heart would be quite common. If we take newborn babies, one in two hundred babies will have a heart problem that we will need to do something about. Newborns are one of the commonest groups diagnosed with malformations of the heart. It is also one of the most important causes of disability leading to death if we don't intervene and treat it on time," Prof. Simpson said.

Prof. Simpson said in comparison to children diagnosed with heart diseases in England, the number of similar incidents reported in Sri Lanka was slightly higher. He said some types of malformation that were common locally were rarely evident in UK and vice versa. However, he noted that overall the cases of malformation evident locally were not dissimilar to the cases in the UK.

"During my lectures at the Lady Ridgeway Hospital on the subject, the doctors maintained a very good overview of the setup and health services that they have implemented within Sri Lanka.
Compared to when we first visited Sri Lanka fourteen years ago, there is a great amount of effort and work that has been put in by local doctors to try and create more awareness on heart diseases while catering to young patients in a successful manner. We have got a few substantial donations from the UK to help carry out our charity work in Sri Lanka, and we are very grateful to all our volunteers and donors for their kindness" Prof. Simpson added.