---

With the rains comes various diseases. Speaking to the Health Capsule Prof. Arjuna de Silva, Professor in Medicine, Faculty of Medicine, Ragama, explained the different water borne diseases and infections that are commonly present in Sri Lanka. Such diseases can spread due to the contamination of drinking water with sewage water. He further sighted examples such as dengue, gastroenteritis, typhoid, Hepatitis A and skin rashes as the most common illnesses. "There are various parasitic diseases that can happen, but the worm infestation an amoebiosis is less because of improved conditions. Cholera too can occur, but not in Sri Lanka unless it is imported," explained the professor.

Dengue

Prof. de Silva stated that one of the main diseases to watch out for during the rainy season, in the current context, is dengue. Although it is not transmitted through water it is one of the most deadly illnesses that spreads during the rainy season.

He further explained where the disease can originate. "During the rainy season dengue can spread due to the increase in breeding sites for mosquitoes. Generally the mosquito breeds in clear water, so there are sights outside the house as well as inside such as plants and gutters where the water accumulates. Recent research has shown that the mosquito is adapting and can even breed in salt water or dirty water. However the main breeding site is still the accumulation of clear water." he explained.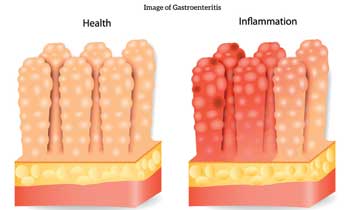 Prof. de Silva continued to explain the symptoms that are experienced. "There will be high fever, pain behind the eyes, headaches and aches in the body. The fever can even drop and return. The main problem is when patients exert themselves. Patients should take bed rest and take paracitamol. They shouldn't take asprin or any drugs that are used for joint pains. You should do a dengue antigen test within the first twenty four hours. Even if the test or the blood count are normal initially it is important to rest and keep checking the blood to make sure the platelet count is not dropping. Because the dengue antigen test is not 100% accurate," he said.

Speaking of preventive measure that should be taken the professor said, "A vaccine is being made. But there are other measures that should be taken. You must make sure the environment is clean and there are no breeding sites. The Government alone can't do that, people also have to chip in. You must make sure that you are not bitten by mosquitoes by wearing mosquito repellant whenever you leave the house and wear long clothing, keeping skin exposure to a minimum. But the main thing is to make sure that the breeding sights are destroyed.

Prof. de Silva went on to explain about diseases that increase due to flooding. Diseases such as gastroenteritis, typhoid and hepatitis A are transmitted through oral means.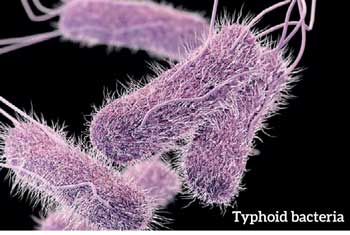 Gastroenteritis

Prof. de Silva explained gastroenteritis, it's symptoms and treatment, "This is the inflammation of the gastrointestinal tract that involves the stomach and the small intestine. It is quite a broad term and one of the main diseases that are spread during the rainy season, especially when there is flooding. The symptoms that you can experience are abdominal pain, vomiting, diarrhea along with fever. If it is immediate you have to take bed rest. If there is fever and no vomiting you have to give the patient liquids like jeevani. And if there is vomiting you have to admit the patient and give him/her an IV as well. Fluids and bed rest are the main treatment options and if it is a bacterial infection antibiotics have to be given" said the professor.

Typhoid

"Typhoid is a bacterial illness which is caused due to bacteria called paratyphoid and typhoid. This causes fever, headaches, abdominal pain and can even cause diarrhea. Antibiotics are prescribed as well," explained Prof. de Silva.

Hepatitis A

Prof. de Silva explained," Hepatitis A is a viral infection which can damage the liver. A definite symptom is yellow discolouration of the eyes. Others include fever, abdominal pain and weakness. There is a vaccine that is given for this condition, in addition to bed rest and fluids that are recommended. Hepatitis B is not commonly seen in Sri Lanka,"he added.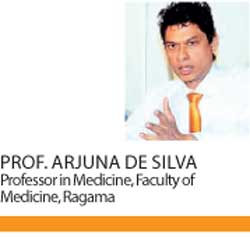 Skin Rashes

Speaking of skin conditions that can be transmitted he said,"These are mainly allergies. These are skin conditions that are developed due to muddy and contaminated water. You can develop rashes and experience itching. You must avoid contact with water, wear boots and suitable clothing. If contacted, wash it off as soon as possible. Generally it is an allergic reaction. When you develop a skin infection you can apply an antibiotic cream. Asteroid cream can be used if it is an allergy".

Prevention

Speaking on preventive measures that should be taken the professor said, "If there is flooding it is difficult to sort out. Consume boiled and clean water, bottled water and make sure that the water source is secure. Make sure that the food that you use is not raw and is cooked well. When you have vegetables wash and cook them. You should not have things like salads otherwise there is a higher chance of getting infected".