---

Family Medicine, formerly known as Family Practice, is a medical speciality devoted to comprehensive and continuing healthcare for the individual and family, across all ages, genders and diseases. The specialist is named a family physician or a family doctor. Family physicians are often primary care physicians. Clinical care is based on the knowledge of the patient with context to his or her family. It takes into consideration factors such as family history including genetic predispositions to diseases such as cancer, presence of risk factors such as smoking, chronic consumption of alcohol, the lifestyle of the patient and their respective families, as opposed to focusing on diagnostics and laboratory tests in isolation.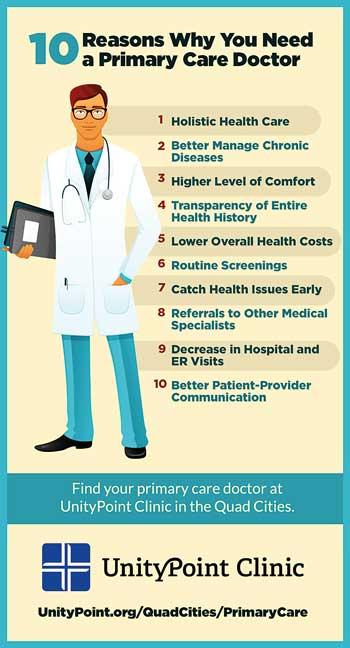 The General Physician (GP) also known as the "Family Doctor" used to be an integral part of families, in the recent past. Home visits were not uncommon a couple of decades ago. However, this GP culture has visibly deteriorated over the past few years. This change may be due to an increase in the medical knowledge among the general public, especially after the advent of media, internet and social media. Patients are now able to partially diagnose themselves with the help of a myriad of health websites, and they are able to decide the kind of speciality treatment they think they need. Seeking a specialist directly has become a popular habit due to the notion that time and money can be saved, is not entirely inaccurate; however, there are a few noteworthy downsides to this practice, and at times, there is a more significant price to pay when primary care is bypassed.

In most developed nations, General Physicians remain the primary contact to patients. Most individuals and families have a "family physician" or a general physician whom they have seen consistently. This family doctor maintains a personal relationship with the patients, and the patients first seek the consult of the GP in the event of any medical adversity. This step cannot be bypassed, and a specialist cannot be sought directly by the patient, without first being referred by the GP.

The advantages of this method is that when a general physician refers a patient to a specialist, he/she gives a thorough and complete account of the history and physical examination of the patient to the specialist, including possible diagnoses. By that time, the GP would have already ruled out the less likely diagnoses, so that the specialist can make a better diagnosis and informed decisions, instead of having to start from scratch. When data is presented physician to physician, in such a systematic manner, it is highly effective rather than a patient approaching a specialist right away.

However, in some developing countries like Sri Lanka, it is not mandatory to go through a GP to seek specialist consultation. With the availability of a wide array of medical specialities and sub-specialities and readily accessible specialists, it is tempting to consult a specialist right away and get it all over with. During instances without a referral from the GP, The new patient arrives as a blank slate to the specialist. The specialists are medical doctors who are specialised in a particular field of medicine, and therefore, their history and assessment would be centered around, if not, limited to their speciality. Even though they derive the medical history of the patient and run laboratory tests, their medical opinion would be based on the information gathered during that one encounter, which usually lasts only a few minutes.

It is not rare to encounter remarks from the general public regarding doctors, about doctors not spending adequate time with patients. Lack of conversation is an actual worry for some patients, who prefer to have lengthy encounters with their physicians to whom they can pour their hearts out. Specialist physicians cannot usually afford to spend time with their patients, given their busy schedules and because they are specialists who focus on specific issues, rather than addressing queries on general well being. Building a rapport is quite challenging, as specialist physicians encounter many patients whom they barely know, and in all probability, would never meet again. GPs, however, are trained to address these issues in patients and are focused on providing continuing care for the patient and the family. This is why having a family doctor as primary contact addresses not only the physical complaints but also the psycho-emotional needs of patients.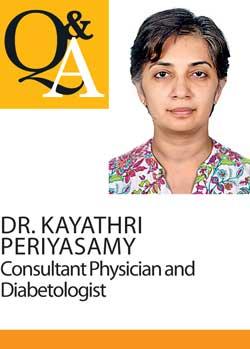 Dr. Kayathri Periyasamy, the head of Health Life Clinic who is also a Consultant Physician and Diabetologist, is focused on providing personalized care to individuals, families and even the corporate sector. Founded in 2005, Healthy Life Clinic, situated in Deal Place A, Duplication Road, Colombo 3, used to be a Diabetes Clinic, and now it has grown to accommodate several GPs as well as specialists. Dr. Kayathri has always believed that it is vital for each patient to have a family physician. The Healthy Life Clinic headed by Dr. Kayathri Periyasamy is focused on improving overall health and wellness of individuals and families rather than narrowing it down to individual ailments and their treatments. Preventive care is the rock on which good health is built, and preventive care can only be achieved when one has a family physician who focuses not only at the present ailments but also at the possible health issues the patients and their families may encounter. This is possible through regular interactions with a physician in a personal manner as opposed to sporadic specialist encounters.

As Dr.Periyasamy further explains, "The GP is trained to filter out the possible causes for the illness based on his or her knowledge on the patient. When an individual has a family doctor, the doctor and the patient develop a rapport over the years, and the doctor has years' worth of knowledge on the patient and is well versed with the history, risks, stressors and the lifestyle the patient has. At times, acute illnesses result from lifestyle changes and psychological factors. At instances like these, the GP will be able to pinpoint the cause and reassure the patient, saving the patient a lot of time, worry and money. If a specialist opinion is necessary, the GP will direct the patient to the right specialist and the GP, who by now knows the patient's background, the financial capacities and preferences, makes a suitable choice on behalf of the patient, sparing the patient and their families of the burden of decision making in major health matters. Upon receiving specialist opinions, the patients can always come back to the GP and discuss matters over and make informed health decisions effectively.

"Part of the GP training is maintaining thorough records of the patients, says Dr. Periyasamy. This is the concept we want to revitalize through reviving the GP culture she says, as, in countries like Sri Lanka, lack of consistent medical records usually pave the way to inadequate decision making and misdiagnosing."

Specialist Physicians seldom ask questions that are irrelevant to their field, whereas the family physician will usually accommodate questions and concerns of the patients, both physical health-related, and otherwise. For example, basic family planning does not require an Obstetrics and Gynaecology specialist but rather, a family physician who has been knowing you and your family for quite a while would be of greater help. The level of empathy would be considerably more when interacting with somebody whom you have known and bonded, and both patients and doctors can have better experiences that way.

It is of utmost importance to have a trustworthy primary medical contact, for every family and individual, for the better physical, mental, emotional and financial outcomes. Dr. Periyasamy, through her Healthy Life Clinic has set a comfortable environment focusing on family care, with both GPs and specialists, and hopes that the GP culture would be revived and that people would be encouraged to take on a personal family physician.