---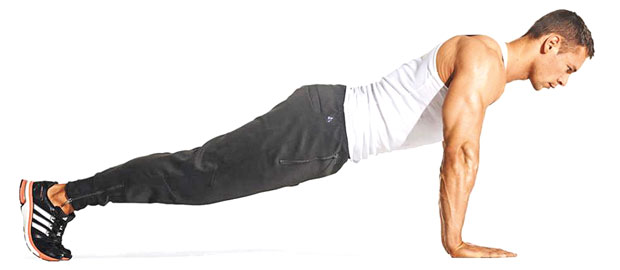 The world is moving faster than we ever expected, so is the spread of both communicable and non-communicable diseases. If not for various pharmaceutical compositions, introduced targeting pathogenic culprits, we wouldn't be standing steady because illnesses would have taken control over us. This has always happened where preventive measures haven't been effectively carried out. Invasive miscreants have the potential to rise up and surpass the body's defense mechanisms, thus paving the way for numerous diseases.

It's true that medications made of various chemical combinations do cure us when preventive measure fail. But they might also own numerous side effects which can have a negative impact on our overall health. This is why individuals tend to weigh risks versus benefits when drugs are prescribed.
As we all know, physical activities always come under conservative management and lifestyle modifications. Every individual is encouraged to engage in sweat producing workouts in order to remain fit and healthy. These tips go well with people who have been diagnosed with non-communicable diseases like Diabetes mellitus, Hypertension or Hyper cholesterolemia. With regard to such people their physicians would probably ask them to their lifestyle and diet and engage in physical exercises in addition to prescribed pharmaceutical treatment. This constant struggle between 'prevention', 'illnesses', 'treatment' and 'cure' has paved the way for health care professionals to invent a concept which is called EXERCISE IS MEDICINE.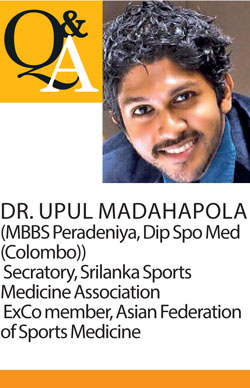 The phrase used in this concept sounds catchy and interesting. To know what exactly it is and how effectively it can promote health and prevent various diseases, we had today's Q &A session with Dr. Upul Madahapola, the Secretary of Sri Lanka Sports Medicine Association and ExCo member of Asian Federation of Sports Medicine.

"Exercise is Medicine is a global health initiative carried out by the American College of Sports Medicine (ACSM). With its presence in 7 regions and 43 countries, following its launch in 2007, it mainly focuses on encouraging primary care physicians and other health care providers to include physical activity when designing treatment plans for patients. ACSM specifies the importance of referring patients to Exercise Professionals and putting them through an EIM Credentialed Exercise Programs," said Dr. Madahapola.

"We also want to spread the idea that 'physical activity' is an integral part when preventing and treating diseases and should be regularly assessed and "treated" as part of all healthcare. This aspect of treatment hasn't been paid attention to by many of us, for some reason," said Dr. Madahapola.
Following are excerpts of the interview with Dr. Madahapola.

QHow do you approach patients when introducing this concept?
Exercise is Medicine' is carried out in a well-established manner in other countries and at national level. We are hoping to conduct work-shops and lectures to provide proper information and teach practical skills to our health care professionals.

In fact we want to make our health care providers know that it is essential that every patient receives counselling for effective physical activities and are properly referred to professionals and introduced to a supportive progamme. All this is done keeping in mind the physical activity recommended for them and their health needs," stressesed Dr. Madahapola.

He also stated that after becoming aware of this newest concept the number of wanting to use this programme will increase. When they see results they will find the necessary enthusiasm and energy to engage in the physical activities prescribed for them.

We also aspire to increase the number of healthcare professionals who are assessing, prescribing and counseling patients in physical activity. We also intend to increase the number of clients attending health care institutions, to meet the WHO Physical Activity Guidelines, increase the number of qualified exercise professionals so that they can receive referred patients and make their input in preventing and treating patients with chronic diseases. We also intend to increase public awareness on the existing capacity of healthcare systems and organizations that provide scientific and technical support and also to engage and to promote physical activity and provide leadership

QWhat is the importance of redefining physical exercise as a form of prescribed therapy?
Well, patients today only wish to have visible and touchable medication from doctors. They disregard advice given in other forms. Pharmaceuticals have made such an impact on the minds of our people and patients now tend to just sit and wait after the ingestion of a drug.

Our main objective is to group patients according to their age, risk factors, co-morbidities and diagnosed condition so that a tailor-made prescription with the most effectual set of activities can be provided. For an example, an elderly patient with osteoporosis can be prescribed with seated activities. This cam be done with a care giver's support. A patient with hypertension or coronary artery disease can be given a different prescription depending on the level of health and capacity.

"So, I think that our health care can be elevated to a new level through the use of prescribed physical exercise because there is a statistical requirement for this addition to medical health care.

QWhat is the role of state health sector with regard to this project?
The Sri Lankan Sports Medicine Association (SLSMA) will serve as the host institution for the 'Exercise Is Medicine' project. We are hoping to receive their fullest support in making this timely concept a reality.

According to Dr. Madahapola, this concept will be soon inaugurated in Sri Lanka with the ultimate hope of witnessing a significant improvement in the overall health of citizens. Exercise Will Be Re-Defined, As A Part Of Standard Medical Treatment, Provided In The Form Of A Prescription.