---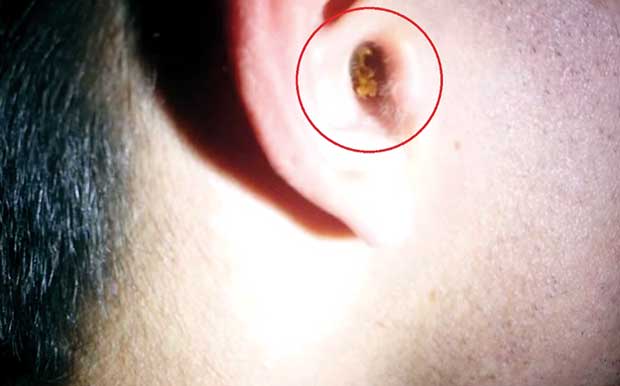 We are all too familiar with the red brown wax produced in our ears. Many of us attempt to clean it off using cotton buds and other objects. But what you are really doing is pushing the wax further in. Many people are unaware of how you have to deal with ear wax which is why the Health Capsule approached Dr. Chandra Jayasuriya, Consultant ENT Surgeon, National Hospital, Colombo. Dr. Jayasuriya gave us a comprehensive explanation on wax impaction and how ear wax should be treated.
Production
"The ear canal comprises of cartilage and bones, covered by skin. Ear wax is produced within the cartilage function of ear canals.Wax is there for a purpose, it is a protective action. Wax is only produced in the outer part of the ear canal, not the deeper part of it. So the ear is like a tunnel actually and the dead cells in the skin should come out from the deeper part of the ear canal to the outside of the ear," Dr. Jayasuriya explained.

Epithelial Migration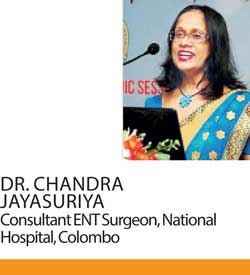 Speaking of how the wax exits the ear she said, "The ear wax usually comes out with the exfoliated skin epithelial cells. This skin epithelial is a special because there is maturity. It matures from downwards to upwards so the deep cells are young and the topmost cells are very matured when they come out. It is said that when we wash our body we wash the dead skin cells off, but in the ear canal it isn't possible because it is like a tunnel. So there is a special mechanism for these dead cells to come out. They migrate from the deep part of the ear canal towards the outside or from the centre of the ear drum to the origin of the ear canal. This is called epithelial migration,"she explained.

Furthermore she said, "Some people are born without this mechanism. When they are born without this mechanism there is wax impaction, which means that wax gets collected inside the ear. Regarding such people, doctors have to take the wax out. There is nothing else that can be done,"Dr. Jayasuriya said.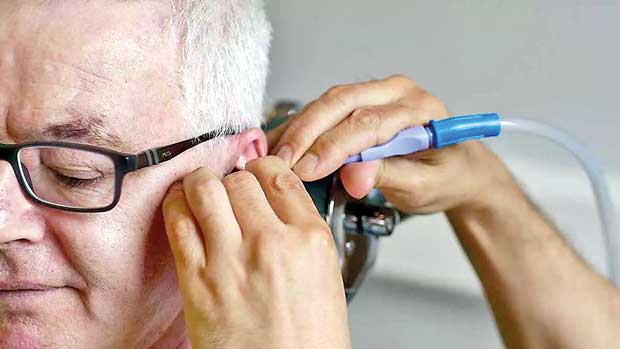 Wax impaction
Speaking of wax impaction Dr. Jayasuriya said, "The ear canal has both bone, in the deeper part of the ear, and cartilage on the outside of the ear. When the cartilage produces wax it mixes with the dead epithelial cells and naturally comes out. We have to then eventually wash it off. For people who aren't born with this mechanism, the wax can build up within the ear and cause erosion and damage to the bone of the ear canal. In such cases patients will have to go to an ENT surgeon to get the wax extracted. Some extreme extractions are even done under anaesthesia. Some patients, due to the continuous use of cotton buds, too suffer from wax impaction.

"In elderly people wax can build up due to the use of hearing aids and even the use of earphones can cause wax build up," she added.

Wax extraction
She further explained how ear wax is extracted. "When extracting wax we either use the suction method, where you suck the wax out of the ear. Or we can use the syringe method, where water is used to remove it. Sometimes a microscope is used and the wax is removed under magnification,"she said.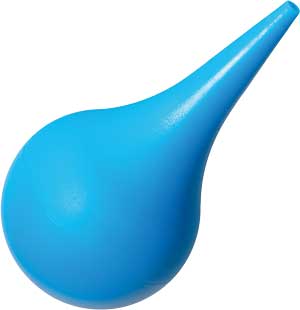 "Washing and cleaning up are done by an expert. It has to be done by an experienced doctor; either by an ENT surgeon or an experienced general practice surgeon who has been trained. After washing the ear you have to wipe dry the excess water. Otherwise fungus can build up in this moist environment. People who are born without epithelial migration have to make an appointment with an ENT surgeon every 6 months in order to remove impacted ear wax. Simple wax isn't a problem and it will automatically come out. We don't have to make a special effort to remove it because if there is migration it can anyway come out without our interference. People who interfere with the process will get wax impaction. And due to the use of cotton buds they push the wax deeper inside," Dr. Jayasuriya emphasized.

Symptoms
Speaking about the signs and symptoms of wax impaction Dr. Jayasuriya said,"You won't be able to hear on that side. The destruction there can cause severe pain, bleeding, a bad smell and deafness. But with simple wax impaction there will only be deafness. Regarding small children, if they have large balls of wax, they might fare poorly at school. Such students might also misbehave because they won't hear what their teachers are saying,"she said.