---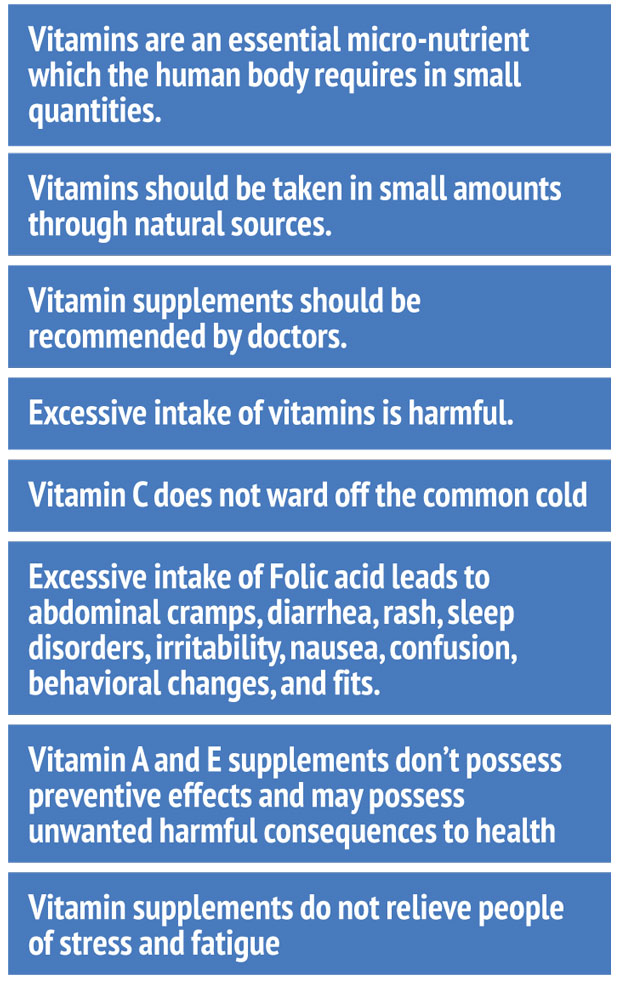 By Amra Ismail
Vitamins are an essential micro-nutrient which the human body requires in small quantities. If the required level of vitamins is not fulfilled, it could lead to a vitamin deficiency where vitamin supplements are administered.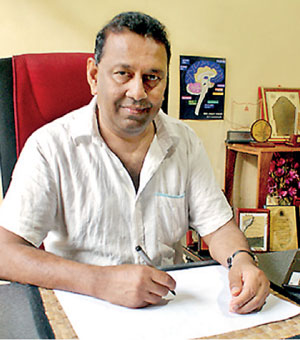 There is a a growing trend today to purchase vitamins over the counter without medical advice. At the same time, there are many myths surrounding vitamins causing people to spend large amounts of money so as to receive additional health benefits.

Dispelling myths associated with vitamins, Dr. N. Kumaranayake, Clinical Psychiatrist of the Kiribathgoda Base Hospital, said that though people were skeptical before taking conventional treatment, the same skepticism did not apply to alternative medicine. "People believe that popping a vitamin supplement is beneficial to health.
---
Vitamin C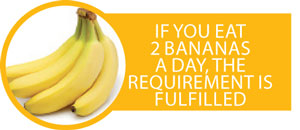 Speaking about Vitamin C which he believed to be the 'commonly abused vitamin', Dr. Kumaranayake said that contrary to popular belief, the supplement did not ward off the common cold.
"People believe vitamin C prevents common colds. This is not true. More than 30 trials conducted with over 10,000 participants have examined the effect of taking vitamin C daily in doses up to 2g a day. The conclusion derived was that vitamins did not prevent or treat the common cold." He also said an excess of vitamin C caused kidney stones. "If you eat 2 bananas a day, the requirement is fulfilled," he added.
---
Folic Acid
Dr. Kumaranayake added that taking large doses of Folic acid had long-term consequences. "Folic acid assists in the development of the human body. It helps in producing genetic material such as DNA as well. Folic acid is mostly safe when taken by mouth. Most adults don't experience side effects when less than 1000mg a day is taken. However It's dangerous when larger doses are taken," he said.

According to him, taking large doses could lead to abdominal cramps, diarrhea, rash, sleep disorders, irritability, nausea, confusion, behavioral changes and fits."Research also suggests that taking Folic acid within the range of 800 and 1200mg might increase the risk of heart attacks in people who have heart problems. Research also points towards a possible increase in the risk of lung and prostrate cancer."

A and E vitamins
"Studies have shown that antioxidant supplements including vitamin A and E didn't possess preventive effects and may possess unwanted harmful consequences to health," said Dr. Kumaranayake.

He added that research showed 400 international units of Vitamin E daily for seven years increased the risk of developing prostate cancer in men. He also said it could increase the risk of developing a concussion.

Taking excessive amounts of vitamin A during pregnancy could harm the baby as well.
"People who market vitamins propagate that hairfall is caused due to a vitamin deficiency. This is a myth. Baldness is due to male hormones such as androgen. Hair fall is also caused by stress, depression and iron deficiency," he explained.

"The best source of Vitamin A and E comes from our diet and not from pills and tablets. The requirement is fulfilled by consuming foods like avocado and nuts," he asserted.

Essential vitamins
He also expressed his views on essential vitamins which research has found to be lacking in most people. "Several trials and studies show that Omega 3 and Vitamin D are the most promising vitamins to provide a wide range of health benefits. We recommend that you get 1500mg of DHA daily and more than 2000 international units of vitamin D to maintain these levels. It's better to measure the intake and take them because they're essential. However, Vitamin D is fat soluble. So if you take it excessively it could be harmful," he said.

He further added that if Omega 3 and Vitamin D were obtained through natural means such as by consuming salmon, leenna and by being exposed to the tropical sun, there was no necessity to take supplements.

Psychological aspect
"People believe expensive vitamins are beneficial, that they help you live longer, makes you energetic, that it's a magic drug. But it is not so," expressed Dr. Kumaranayake.

He added that vitamins did not relieve people of stress and fatigue. "Recently, a company manager told me that he had depression for few months.

However before being depressed, he had taken vitamins for six months to relieve himself of fatigue and irritability which he assumed was a result of vitamin deficiency. He had bought vitamins without the prescription of a doctor.

I started treating him for depression and asked him to do some exercise. Within weeks he was energetic and was able to resume his previous life with a positive outlook."

Pointing out that at times doctors were also at fault, he said, "When you complain to a doctor that you feel tired all the time, the doctor prescribes vitamins. He does not ask the patient about anxiety, depression or stress."

Who should take vitamins?
"Vitamins have to be recommended by doctors. Pregnant women are prescribed with supplements to overcome Iron deficiency. Folic acid is also prescribed because the requirement is more.
Supplements are recommended during lactation as well," said Dr. Kumaranayake. "In Sri Lanka, 35% of schoolchildren are malnourished.

They need supplements. When children study and if their diet is not very nutritious, supplements could be recommended to meet the requirement. But it has to be prescibed by doctors," he added.

Stating that vitamins were a multi-billion profit-making industry, he recommended that people should consume green leaves, kola kenda, fish and vegetables which consist of natural vitamins, minerals and fibres.