---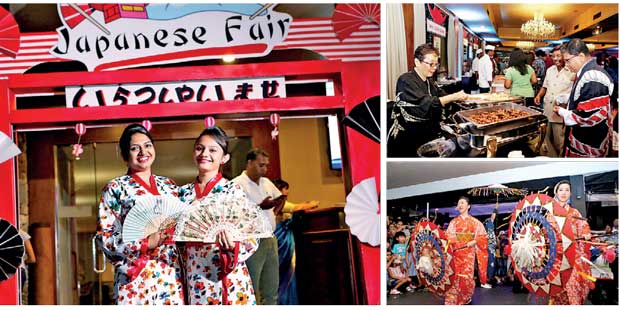 Sri Lanka's culinary and entertainment hub Waters Edge in partnership with the Japanese Embassy is to present the third Annual Japanese Fair on Sunday, February 11, 2018, from 4:00 p.m. onwards, at the Grand Lawn.

This year's fair will also be held in collaboration with the Aikido Association, Kyodo Club of Archery, Origami Folders Association, Sri Lanka Bonsai Association, Ikebana International, Shi-En Ikebana and Floral Art Society, Cos-Play Group, Taiko Drummers, Sumo Federation and Japan National Tourism Organisation (JNTO).

The fair will be held under the patronage of Japanese Ambassador in Sri Lanka Kenichi Suganuma and other distinguished guests.

Kick-starting at 4:00 p.m. with an exciting martial arts demonstration by the Aikido Association, Cos-Play will also have traditional Japanese board game booths open to children and adults running throughout the fair.

This year's highlight will be the Samurai, Kendo and Archery demonstrations by the Kyodo Club of Archery, the special performances by the Taiko drummers flown in from Japan and the enthralling Japanese Ninjas, who will display their unique skills.

Meanwhile, the Origami Folders' Association, Sri Lanka Bonsai Association and Ikebana Associations will exhibit their arts and crafts while also carrying out several workshops on the art of paper folding, miniature landscaping and the art of flower arrangements.

The latest addition to this year's fair is the Sumo Federation's Workshops that will include oral presentations of the history of Sumo, audio-visual presentations of Sumo matches and displays and physical presentations of basic Sumo exercises and children's Sumo matches.

The collaboration with JNTO this year will also see the promotion of Japan and its unique culture. Quiz shows encouraging visitor participation will also be part of this session.

One of the best ways to experience a culture is through its food and the award-winning culinary team at Waters Edge together with the authentic Japanese restaurant Ginza on the Edge will put together an extensive buffet of renowned delicacies from the Land of the Rising Sun. Sushi, Ramen, Unagi, Tempura, Soba, Yakitori and much more will be overflowing for those who want to indulge in the best of Japanese cuisine.