---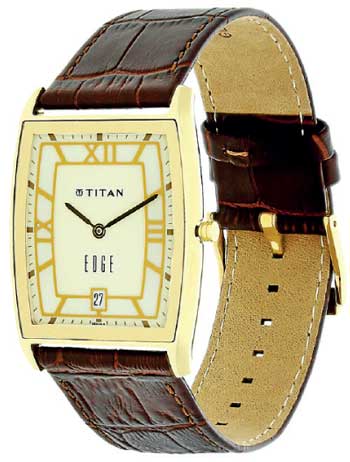 Titan, one of the world's leading watch brands, recently unveiled its latest timepiece collection, the Titan Edge Date.

Launched to immense critical acclaim, the Titan Edge Date series reflects a confluence of classic elegance and contemporary trends whilst exhibiting the highest technical mastery.

The Titan Edge Date range underscores the twin motifs of sophisticated minimalism and post-modern aesthetics by incorporating stylish steel and croco-leather straps as well as a wafer-thin dial encased in exquisite sapphire crystal glass.

Each watch also features the revolutionary Titan Edge movement, which provides the slimmest quartz movement in the world and allows for exceptionally sharp time accuracy. Hence, this range's versatile design imparts an overall avant-garde yet classy feel, making the Titan Edge Date watches the ideal accessory for formal and semi-casual attire. The lineup comprises of two subsets of watches, namely, round and square timepieces. The round watches, in particular, showcase the predominant theme of genuine croco patterned leather with Nubuck lining. Coming in a refined palette of light, mid and dark brown, these timepieces integrate stylized matte dials with round appliques and a beveled date window that boast a thickness of 4.65 millimetres.

On the other hand, the square watches demonstrate bold yet ornate designs that are perfect for any occasion. Ensconced in a Tonneau-shaped case, these timepieces comprise of a stylish base of either full-metal bracelets or croco-patterned leather straps with Nubuck lining. The sophisticated watch face, however, takes centre stage due to its two-layered dial and thin skeletal frame.

All watches featured in the Titan Edge Date collection illustrate a stunning interplay between everyday functionality and opulent refinement, while placing a pronounced emphasis on the exceptional craftsmanship and impeccable finishes that Titan has always been renowned for.
You can preview the Edge Date lineup by walking into the Titan flagship store at Arcade Independence Square, the Titan showroom at Crescat Boulevard and selected Abans Elite showrooms or visiting www.buyabans.com.