---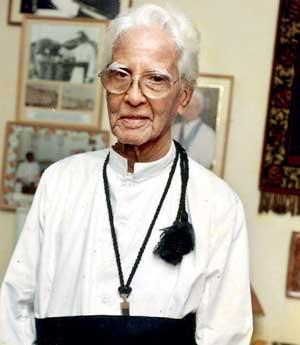 The 118th birth anniversary of Rev. Fr. Marceline Jayakody - the respected Catholic Priest who marched through the silky routes of literature and bloomed into a garden of fragrance – falls on June 3.

The late Kalashoori Fr. Marceline Jayakody was not born with the proverbial silver spoon clenched in his fist when he came into this world on June 3, 1902. Born to a middle class family in Dankotuwa, his father was an Ayurvedic physician.

A product of Madampe Vidyalaya and St. Joseph's College, Colombo he passed the Cambridge senior amidst financial constraints and was ordained as a priest on December 20, 1927 after following a spiritual stint at St. Bernard's Seminary.

Fr. Jayakody's long-playing passion for Arts and poetry started as a little child while flipping through his father's Ayurvedic literature which had been in poetic rhythm. His childhood passion eventually took him to such great heights that he brought fame to Sri Lanka by clinching Asia's Nobel Prize - the prestigious Ramon Magsaysay award in 1983.

Fr. Jayakody who was acclaimed as one of Sri Lanka's finest writers, always infused our own traditional culture and values into his creations, also taught at St. Patrick's College, Jaffna, St. Peter's College, Colombo and completed a stint at his alma mater St. Joseph's College.

The fine violinist, while studying music at the esteemed Santiniketan in India, had the rare honour of having India's former Premier, the late Indira Gandhi as his contemporary.
Fr. Marceline Jayakody, the respected Catholic Priest, poet, lyricist and journalist, holds the distinguished record of being the first Catholic Priest to write songs for Sinhala films and penned nearly 800 songs which became instant hits among the masses. Always decorating his words in line with indigenous culture and traditional values, Fr. Jayakody who was fluent in about ten languages authored several books in Sinhala and English and was awarded the Kalashoori award in 1982.

Fr. Marceline Jayakody who became more humble, the more he was showered upon with success is known to have been a key figure in getting Ananda Samarakoon's Namo Namo Matha accepted as our national anthem. It is said that the move came after the then Finance Minister J.R. Jayewardene invited Fr. Jayakody to train the special choir to sing the song as Ananda Samarakoon had gone abroad during the first Independence day celebrations in 1949.

Fr. Jayakody is said to have gone to the temple on Poya days with his mother Josephine Senaratne and perhaps that background had encouraged Fr. Jayakody to share a close rapport with Buddhism and Buddhist prelates and years later he was popularly known as "Pansale Piyathuma" or the Father in the temple.

The country lost the ardent lover of nature and his motherland on January 15, 1998, when he was 96.