---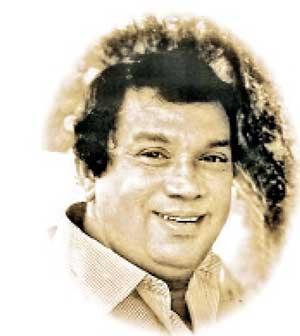 The 33rd death anniversary of legendary singer H. R. Jothipala falls tomorrow, July 7.

Hettiarachchige Reginald Jothipala was the most prolific playback singer in the Sinhala cinema and many believe that its golden era in the seventies was also due to the exceptional screen voice contribution of Jothi who sang for lead actors.

The old boy of St. Lawrence College, Maradana and St. John's College, Dematagoda was in the habit of patronizing tea kiosks in the area to listen to songs since his family did not possess a radio.

He made his debut as a playback singer in 'Surathalee' singing 'Siriyame Sara' in 1956, but prior to that he had sung for the late Sirisena Wimalaweera's 'Podi Putha'. This song was mysteriously slashed from the film when it was released. According to records, Jothi was selected for the film by music director B.S.Perera but it had been rejected by the Indian film composer who had said that Jothi did not possess a screen voice.

When Surathalee producer Jabir A. Cader wanted to hear one of his songs to consider him for the film, poor Jothi was again helpless since he did not possess enough money to cut a record. It was veteran musician the late Stanley Oumar who came to his rescue and helped him out at this crucial stage. This paved him the way to sing 'Siriyame Sara' which is popular even today. Later Stanley Oumar told us with no prejudice that he too did not have enough money to record Jothi's first song. So he had to pawn a piece of his wife's jewellery to raise Rs. 35 to get Jothi's song recorded, way back in the fifties. Jothi was fortunate to have worked with almost all reputed directors in the country. In the early stages of his melodious career, Jothi clinched the rare opportunity of working with prolific filmmaker Dr. Lester James Peries' 'Sandeshaya' in which he sang the evergreen number 'Puruthugeesikara', which was set to tune by music maestro the late Sunil Santha.

He was the undeniable choice in films that were made in the late sixties and through the seventies, the period during which he also grew as an actor too. Though Jothi was criticized for singing to the tunes of popular Hindi songs – which he did competently – he also sang under the batons of Pandit W.D. Amaradewa, P.V. Nandasiri, Premasiri Khemadasa and Sarath Dassanayake.

He sang for hundreds of films including popular hits like Kasthuri Suwanda, Thushara, Sweep Ticket, Hitha Honda Minihek, Kawuda Raja, Hondata Hondai, Wasana, Sangeetha, Hathara Denama Soorayo and others. The award-winning singer also played some memorable roles in films including Ethulweema Thahanam, Sulalitha Sobani, Sujeewa, Sukiri Kella, Abirahasa, Bonikka, Shanthi and Sumithuro.

text: Ramesh