---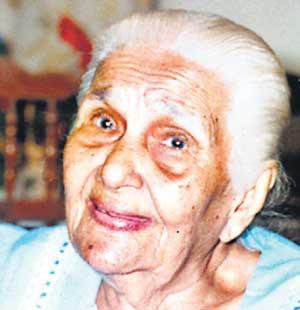 The 13th death anniversary of Sri Lanka's pioneer songstress Kokiladewi Weeratunga falls on July 5.
Born on June 12, 1912 she studied music under several veterans from her childhood. She was passionate about music and arts from her early childhood.

The turning point in her career came in 1925 when she met Maris Pathiarachchi master and sang a duet with him on January 23, 1929 creating history and emerging as the first Sinhala female singer to sing at the Colombo Radio (later Radio Ceylon and SLBC now).

Mulu Lokema Pirunu Situ Devi Vishaka was her first song which was aired live on Colombo Radio. From then on she sang several Sinhala, Tamil and Hindi songs.

Her gramaphone era songs included Bari Shree Katha, Mathpen Welandama Duruwei Hemadama and a couple of Tamil songs. In 1939 she sang Sripathi Sriharee, Vishnu Devindu and other songs for the HMV label.
The highpoint of her career came when she was selected as the first Supergrade female singer of Radio Ceylon while Pandit Amaradewa was the first male super grade singer. Later she taught music at Vishaka Vidyalaya, Colombo, Anula Vidyalaya Nugegoda and Sujatha Vidyalaya, Matara." She passed away on July 5, 2007.