---
Holidays are going to appear different — and so are we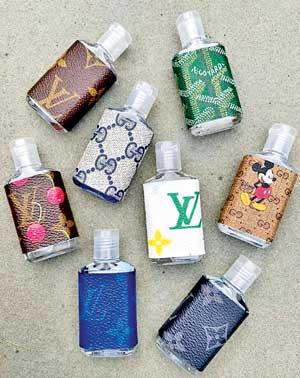 SANITISER NECKLACES

Supermarkets quickly sold out of hand sanitisers at the beginning of the pandemic. They're now back on our shelves and can be dressed up in fancy sleeves and even made into necklaces.

For the ultimate high-fashion hand sanitiser statement, New York designer Sarah Coleman has created sleeves made from repurposed leather vintage designer bags, right, including Louis Vuitton and Gucci.

FANCY FACE MASKS

Masks are mandatory on most flights. Surgical masks may be effective, but they're hardly attractive and the shade of baby blue may not always go with your outfit.

Thankfully, the internet is now awash with pretty face masks,

CUTLERY

Inflight meals will be a thing of the past while coronavirus is in existence, so invest in a reusable bamboo cutlery set to eat your Pret salad while on board. These can be used at restaurants, too.

GOGGLES

Coronavirus spreads easily when droplets containing virus particles are inhaled.

But it can also enter your body if you touch your eyes after being in contact with an infected surface.

Oakley's new Clear Collection is the perfect fashion substitute for the safety eyewear seen in most laboratories, and are PPE qualified.

Designed to mould around your face with minimal gaps, you can wear them comfortably to sleep without worrying about the potential virus particles in the air or accidentally touching your eyes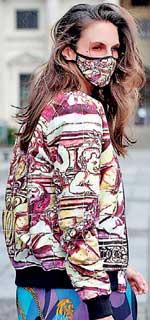 VIRUS-BUSTING GLOVES

Atsuko Kudo makes a range of ladies gloves using high quality latex.

The Queen sent the internet into a tailspin when she wore gloves to an investiture for the first time since the 1950s, in March as the pandemic took hold.
Many designers are creating virus-busting gloves.

Danish brand Rhanders has created a collection of antibacterial gloves that are hypoallergenic and come in different materials and styles. Its crochet style is 100 per cent cotton and treated with technology that stops up to 99.99 per cent of microorganisms and bacteria passing through the fabric onto hands — even after washing

COVID BUMBAG

You're going to need to put all these accessories somewhere, and within easy reach.

No longer the accessory of choice for clichéd tourists, these ultra-convenient bags are having a renaissance, with labels from Nike to Burberry putting out their own versions.

BLANKETS BAN

Don't expect to be handed a pillow and blanket on your next long-haul flight. Take your own.