---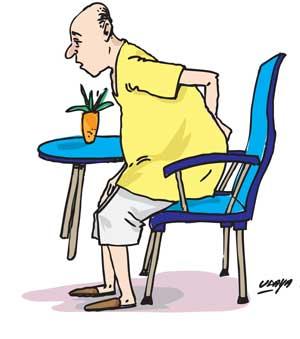 Ultra-modern architecture, modern furniture and other modern material connected to households, restaurants or any other space are quite pleasing to the eye. All sorts of fancy styled chairs, sofas, houses with elaborate staircases, known now as architectural attractions or whatever trendy name used, are quite eye catching until you hit a certain age.

Visiting such designed areas when one has reached the stage when all types of body aches and pains have set in is no fun. The chairs are so low that without contorting the body to fit the chair you are unable to sit on them and then comes the challenge of getting out of the chair. Dining tables that have unsuitable chairs around them are another menace. Climbing the eye-catching staircase is no fun and seems to challenge the climber from the first step.

Since modern houses are now built on a small area of land, they tend to be two or three floors high. The owner and the architect do not seem to give any thought to aging and miss out having a bedroom on the ground floor. I know many older people, including some parents, who have their bedrooms on the first or second floor and rarely come down to the ground floor unless it is essential. When this flaw is realised, the well to do attempt fitting an elevator in the house. They are not successful in many instances since the design cannot accommodate an elevator at this stage.

Some elevated houses do not even have a guest toilet on the ground floor since visually the design did not allow for it. To use the loo the guest is expected to trudge up and down stairs, which is not pleasant when the aches and pains are prevalent. Swimming pools are also a menace as they do not have railings to hold on to getting in and out of it since it would ruin the visual.

Such modern design is only practical and can be enjoyed by the fit and young, while the majority suffer if they are riddled with all sorts of body, bone and nerve issues. Fortunately, the more sensible people and, of course, the wealthier now fit in an elevator when designing their homes.

If an elevator is not available, the only alternative is to avoid homes and establishments that go for the visual without sparing some money for the comfort and convenience of the ageing.