---
Residents of Demunewa in the Habarana Palugaswewa Divisional Secretariat have observed an abrupt surge in millipedes (hakarella) which has become an annoyance to their daily lives and is spreading a fear psychosis among them.
Having a number of white and yellow limbs, this species freely move about houses and shrubs in the vicinity. Villagers claim an unbearable stench emanates from these creatures that crawl up the walls of houses and trees.
The complaints made by villagers persuaded officers attached to the Divisional Health Service at Palugaswewa to visit the area and make their observations, but they too failed in coming out with a solution to eradicate the menace. The villagers have adopted their own home remedy of putting up plastic sheets around their houses to a certain height, but in some places, found the intruders scaling the poles that stick together these polythene sheets and enter the houses. The villagers have found it difficult to cook their meals and even walk out to answer calls of nature due to the presence of millipedes. The nauseating stench of these creatures has also prevented villagers from having any group activity or social gathering. They fear a delay in taking action to rid the area of this nuisance will reluctantly compel them to evacuate their homes.
A team of journalists who visited the village had witnessed the presence of the species in large numbers inside the houses, bedrooms, kitchens and toilets. They urge relevant authorities to take immediate action to arrest this situation before the creatures spread to other villages.
Palugaswewa Divisional Secretary I.G.S.I. Bandara said the authorities had been made aware of this situation but nothing had been done to put a strategy in place to eradicate the creatures. (Kanchana Kumara Ariyadasa)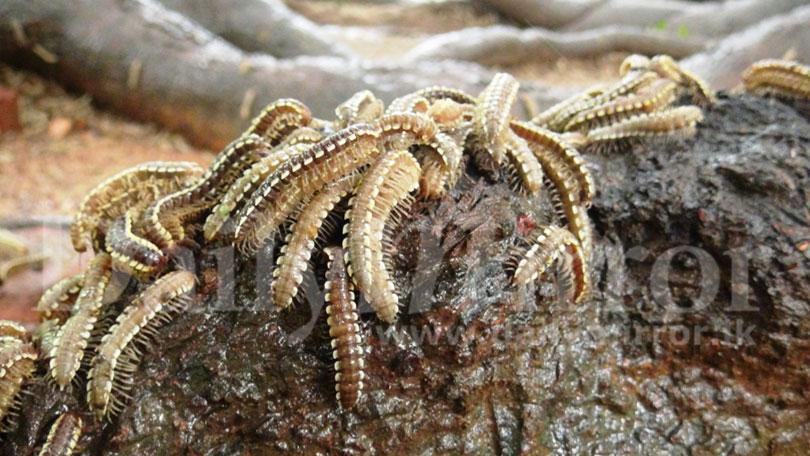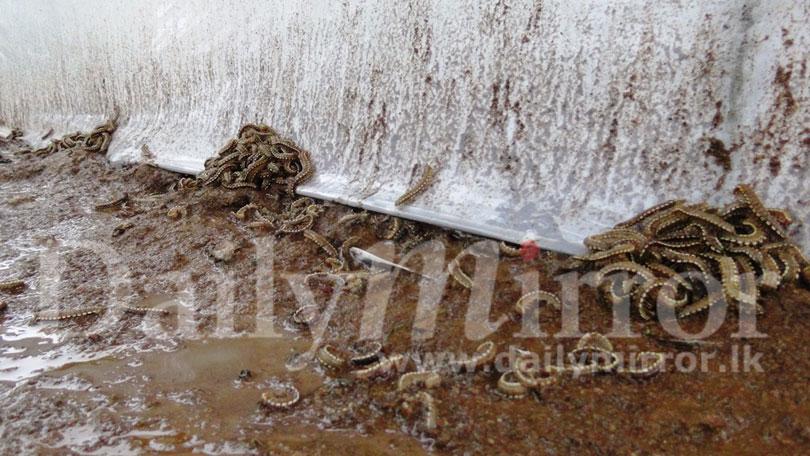 Pix by Kanchana Kumara Ariyadasa