---
Malika Yoga gives high office in government or private sector
Chandra Malika Yoga makes one a navy commander or a successful trader in a port city
Shanka Yoga gives a charming, beautiful and well-educated wife

Malika Yoga: This Yoga is produced when all the seven mounts on the hand, Sun, Moon, Mars, Mercury, Jupiter, Venus and Saturn are well developed.
Result: The subject gets a good position in the government or in the private sector. He also gains honour and respect for his leadership.
Every Mount has a central point and if the line named after it reaches the central point of a Mount, that Mount is considered the most favourable one on the hand. If the line of Jupiter reaches the central point of Mount of Jupiter it is called Guru Malika Yoga. The other mounts with similar combinations are described as Ravi Malika Yoga, Chandra Malika Yoga and so on.
Results produced by Malika Yogas named after the respective mounts signifying the favourable combinations are as follows: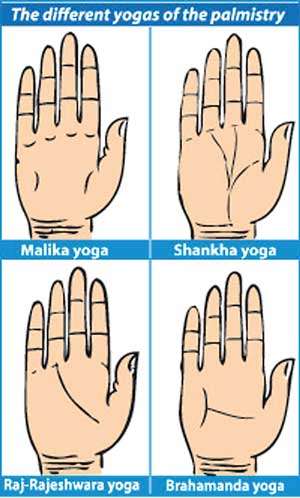 Ravi Malika Yoga: The subject would gain a very high position in administration.

Chandra Malika Yoga: The subject would become a commander of the navy or a successful trader in a port city. He would travel abroad many times.

Mangala Malika Yoga: The subject becomes a high-ranking official in an armed force or Police. He would enjoy great wealth and travel in comfortable vehicles.

Budha Malika Yoga: A person endowed with this Yoga is generous and benevolent. He travels abroad often on duty or for pleasure. He gains honour and fame for his achievements.

Guru Malika Yoga: The subject takes a great interest in religion and philosophy. He is kind and benevolent. He earns honour and respect as a community leader and a social worker.

Shukra Malika Yoga: The subject is handsome and attractive and earns respect and honour for his achievements. He usually follows in the footsteps of his great father.

Shani Malika Yoga: The subject enjoys longevity and good health. He gets respect and honour after 65 years of age.

Shanka YOGA: This Yoga is formed when two lines proceeding from a well-developed and well-formed Mount of Venus reach the Mounts of Saturn and Sun respectively.
Result: A person endowed with this Yoga spends his life in happiness.
He gets a charming, beautiful and well-educated wife. He maintains cordial relations with others. He takes an interest in spiritual matters while enjoying worldly pleasures.

Veera Yoga: If there is a mark of circle, triangle or a square on a well-developed lower Mount of Mars, the subject becomes a beneficiary of this Yoga.
Result: A person born with this Yoga reaches a high position in the military or in the Defense field.

Raja-Rajeshwara Yoga: A line originating from the Mount of Venus proceeding through the centre of the hand reaching the Mount of Sun forms this Yoga.
Result: A beneficiary of this Yoga leads a happy and contented life amid luxury. He can fulfill all his wishes and desires.

Brahamanda Yoga: When there two lines connecting the Moon Mount with the Venus Mount in a well-formed hand, this Yoga is formed. There are several other formations which qualify to attain the status of the Brahamanda Yoga they are:

1. There are three or four vertical lines on the second phalanx of the finger of Saturn.
2. There are half-moons at the root of all fingers
3. Thumb is long and thin and is turned backwards and the Mount of Venus is well developed.
4. There are two lines originating from the mount of moon, one proceeding towards the Mount of Venus and the other going towards the mount of Mercury.
5. There is a sister line running parallel to the Sun line.
Result: The beneficiary of this Yoga is very happy and leads a life enjoying all sensual pleasures like a king.