---
Human hand- Trail Blazer of Human Civilization – Part 15
BY A.S. Fernando.
The elevated area beneath the second phalange of the thumb surrounded by the Line of Life is called the Mount of Venus.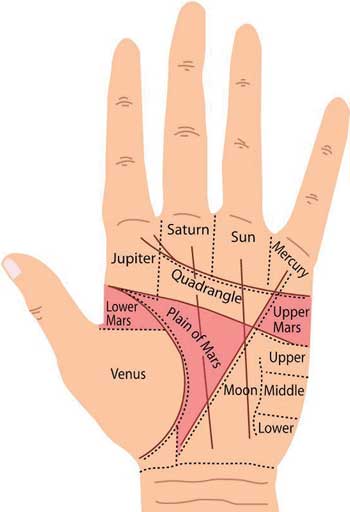 Venus is known as the Goddess of Love and Beauty in Greek mythology.

Represents love and sympathy
True to its name, this Mount stands for love and also for sympathy and generosity.

Persons having a prominent Mount of Venus are Venusians.

Healthy with an attractive and imposing personality
Venusians are very healthy and are endowed with an attractive and imposing personality. A person without a prominent Mount of Venus is a coward and a weakling.

The absence of the Mount shows that the owner leads a life of hardship and misery.

Venusians are brilliant and good looking.

Attract the opposite sex
Persons of the opposite sex would find Venusians enchanting. A good Head Line and a strong thumb are necessary for a Venusian to hold in check his/her inclination to seek sensual pleasures at the expense of self-respect, time and wealth.

A lover of music and fine arts
A smooth Mount not excessively large indicates that the owner is a lover of flowers, music, and fine arts in general. If the Mount of Moon is equally developed the owner's aesthetic sensibilities are very strong and refined.

Venusians generally marry at an early age. Female Venusians are easily attracted to strong Martians for they find strength and vigour provocative.

Venusians are idealistic to a certain extent but they enjoy life.

The Venusian has many qualities in common with the Juputerian. But the Venusians are more tender, sympathetic and unselfish.

The Venusian is strong and healthy and has a cheerful disposition