---
Jupiter's transit switch to Scorpio on October 11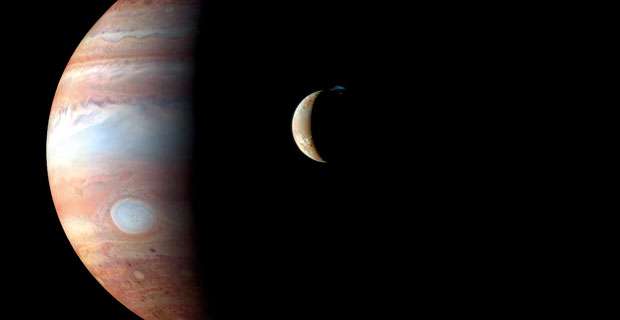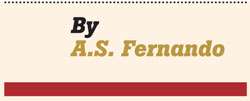 Jupiter, the largest planet in the Solar system which is also looked on as the most beneficial planet in Astrology, which has been passing through the zodiacal sign Libra since September 12, 2017 will enter the zodiacal sign Scorpio at 19.21 hours on October 11, marking, perhaps, the astrologically most significant celestial event for the current year.

Bestowing prosperity and protecting the Earth
Indian sage Mantreshwara has said in his celebrated work, Phaladeepika that Jupiter is the most powerful of all the planets in countering malefic influences and bestowing prosperity.

According to astronomers, Jupiter protects the Earth and the life on it due to its location in the Solar system. They say that there is an asteroid belt in between Mars and Jupiter and it is positioned in such a way that its gravitational pull prevents asteroids from hurtling towards the Earth.

Forward and backward movements of Jupiter
Jupiter usually takes about 13 months to traverse one sign in the Zodiac and its transit in Scorpio will continue, disrupted by one retrograde movement, until its final ingress into the next sign, Sagittarius on November 05, 2019.

Jupiter while on its direct movement will enter the Sagittarius sign on March 29, 2019 and will turn back on its journey towards Scorpio on April 10, 2019 to re-enter it by April 23, 2019. It will resume its direct movement by August 11, 2019 to complete its passage in Scorpio by November 05, 2019.

Vedha places
The effects of a transiting Jupiter produces good or bad, and are negated if any other planet is transiting in a House named as a Vedha place at the same time in relation to the transiting Jupiter.

The Houses where the transiting Jupiter produces favourable effects and the Houses where Vedha operates in respect of each of such Houses as well as the Houses where the transiting Jupiter produces unfavorable effects and the Vedha Houses from where other planets negate the bad effects are shown below.

Prediction of results based on Chandra Lagna
Predictions on effects produced by planets in transit, as a principle, are based on the Chandra Lagna or the Natal Moon sign, not on the birth Lagna or the Ascendant. Let us now consider the long term and short-term effects that Jupiter in Scorpio is going to produce on individuals depending on their Moon sign or the Chandra Lagna.
Aries (Mesha): For Aries Chandra Lagna natives, Jupiter will be in their 8th House. This is not a favourable position for them. Natives are advised to be their alert to meet obstacles and unfavourable developments which could cause worries and anxieties. You have to be on your guard against possible thefts of your valuables. Circumstances that could make you unhappy at your workplace or fall foul of the law of the state are possible. Unnecessary travelling, change of residence and high expenses may trouble you. The period up to April 2019 is not favourable for making investments either. Natives may also develop health problems relating to stomach and liver.
Taurus (Vrushabha): For you, Jupiter will move into your 7th House, an important quadrant or a Kendra. Natives will benefit from Jupiter's direct aspect over the Lagna. Time ahead is very auspicious for young men and women looking forward to matrimony. Love affairs of natives may culminate in marriage. Natives also can look forward to marital happiness, a happy family time and a child birth. Financial position will turn for the better. Your business may turn more profitable. Opportunities may come your way to expand your business. For those employed, a rise in the career is possible. You are likely to develop a religious and an altruistic bent. A long journey to a sacred place is on the cards. Time ahead is also favourable for students pursuing higher education.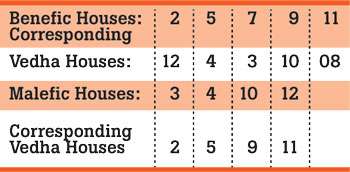 Gemini (Mithuna): For Gemini natives, Jupiter will be in their 6th House. This is not a favourable position. You will have to take extra pains to avoid misunderstandings, disputes and differences with family members and friends to safeguard your cordial relations with them. Machinations by rivals and enemies, attempts at discrediting you, thefts of valuable possessions are strong possibilities. Distance yourself from undesirable elements for they could bring disgrace to you. Students may find impediments to their educational pursuits.
Cancer (Kataka): Jupiter will begin transit in the 5th House of Cancer natives. Meanwhile, the special aspect of Jupiter too will fall on the 5th House making this transit doubly favourable. The birth of a son, happiness from children, cordial relations with peers, seniors and colleagues and a rise in the career are strongly indicated in times ahead. Natives can also look forward to recognition and rewards for their skills and hard work. Matrimonial prospects are very bright for bachelors and maidens.
Leo (Sinha): Jupiter is due to move into your 4th House where he does not produce favourable results when in transit. You have to be in readiness to face possibly unconnected circumstances that could cause a variety of problems such as threats to family harmony, disputes with relatives, deprival of homely comforts and separation from the family. Students may find themselves faced with impediments to their studies. You are advised to keep away from animals which may cause you injuries. Avoid gaming activity and speculation-related trading for you may suffer heavy losses. Desist from any action likely to antagonize or cause displeasure to your employer or superiors for there is a threat to your employment.
Virgo (Kanya): Jupiter is to transit in the 3rd House from your Chandra Lagna where it does not hold out remarkably favourable results. However, the fact that Jupiter is to favourably influence your 7th, 9th and 11th Houses signifying considerable gains is a plus factor. These three Houses gaining strength from Jupiter would mean that you are to have a happy family life, some measure of fortune and a sound financial position respectively. However, you cannot look forward to these gains as a matter of course; you have to put in some extra-effort to reach out to them.
Libra (Thula): Jupiter is due to leave your Lagna for the 2nd House of Scorpio for its 13-month transit. In fact, Jupiter is more favourable for material success in the 2nd House than in the Lagna. Therefore, natives can look forward to a period of prosperity ahead. Jupiter is also to favourably influence your 6th House assuring success and achievements, the 8th House holding out sudden gains and the 10th House indicating a possible rise in the career. So, you can look forward to a generally happy and prosperous time ahead.
Scorpio (Vrushika): Jupiter's switching of signs will have the greatest impact on you for it will be in your Lagna or the 1st House for about 13 months beginning October 11. Jupiter's transit in your Lagna will bring about a change in your outlook on life. You will develop an altruistic bent. You will become more interested in cultivating human and spiritual values than in accumulating wealth or in increasing your wealth. Incidentally, Jupiter's special aspect from Scorpio will fall on your 5th and 9th houses and the direct aspect over the 7th House. So, the natives can look forward to the benefits that these Houses represent: advancement of knowledge, cordial relationship with the spouse and the business partners and luck and prosperity among a host of other gains.
Sagittarius (Dhanu): Jupiter will be transiting in your 12th House beginning October 11 where it will not be strong enough to produce favourable effects. Unforeseen untoward circumstances can cause you problems in the time ahead. Your health may deteriorate and your relations with relatives may get strained. Worries will plague your mind and you will find yourself unhappy very often. However, there are redeeming aspects as well. Jupiter will from your Lagna cast its beneficial aspect over the 4th House, 6th House and the 8th House favourably influencing them to enable them to produce beneficial results.
Capricorn (Makara): Jupiter will begin transiting in your 11th House from October 11 where he will be so comfortably placed as to bestow on you increased wealth, business success and a good social time. You will find yourself in the company of learned friends who will be of immense help to you. Meanwhile, Jupiter will favourably influence your 3rd, 5th and the 7th Houses assuring you of cordial relations with siblings and help and co-operation from them, recognition for efforts and skills in arts, science and literature and marital happiness among other benefits.
Aquarius (Kumbha): The benevolent Jupiter will be in your 10th House beginning October 11 where the planet will not be able to produce any remarkable favourable effect on your life. You must be on your guard against possible attempts at bringing you into disrepute and you may not get benefits commensurate with your efforts. However, you will reap some gains due to Jupiter's beneficial aspect over your 2nd, 4th and the 6th Houses. The 2nd House thus strengthened will bring you an increased income and a happily family time, the 4th House comforts and assets like land and vehicles and the 6th House the success in contests
and competitions.
Pisces (Meena): In your case, Jupiter will begin its transit in Scorpio from your 9th House which will place you in a very fortunate position. Jupiter, your own Lagnadhipati will cast his beneficial aspect over your Lagna, the 3rd and the 5th Houses. You can look forward a period of peace, happiness, fame and prosperity. There will be an increase in your wealth, a rise in your status, happiness in the family and a rise in your career. You will embark on your activity with much confidence, a positive outlook and a burst of new energy.