---
The planet of Beauty and Love – Part 4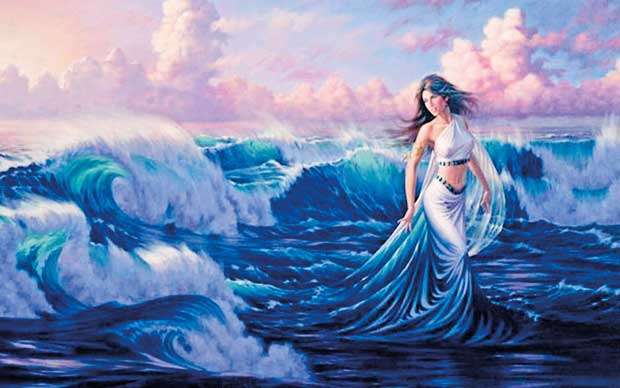 Venus with Mars: makes the subject lascivious
Venus with Jupiter in 9th Bhava confers great prosperity
Venus with Mercury in 9th Bhava bestows wisdom, learning and happiness

There is no malefic planet that afflicts Venus so much as Mars. Marital happiness comes under threat when Mars occupies the Kuja-Dushsthana (2nd, 4th, 7th and 8th) from Venus.

Mars-Venus conjunction imbues the native with much energy and vitality as well as a great sexual urge. This conjunction occurring in a good sign and a good Bhava produces a wealthy person endowed with business acumen. He would attract the attention of the fair sex wherever he is. He would be very generous and easy going, but would have a sense of moral rectitude. However, if this conjunction is afflicted, the native would become a person of loose morals, who would stoop to any low means of satisfying his sensual desires. This interpretation holds good for a female native as well.

A nymphomaniac
If there is a Parivartana or a mutual exchange of Rashis between Mars and Venus in a female horoscope, she would become a nymphomaniac. If Moon joins the Mars-Venus combination in the 7th, she would become promiscuous.

If Mars is conjunct with Venus in the 9th Bhava, the native would have a second wife. However, the native would be a great diplomat - a member of the Foreign Service.

A great statesman or a ruler
Native would become a great statesman or a ruler, if Venus is Swakshetra or exalted in the 2nd House and the Lagnadhipati is strong in the Lagna, the 9th or the 10th House.

Jupiter with Venus in the 9th confers great prosperity and Mercury with Venus in the 9th bestows wisdom, learning and happiness.

Venus with Saturn in the 9th gives high status and marital happiness. A Pisces native would rise to the position of a ruler if Venus is posited in the Lagna and the Pisces Navamsa.

Malavya Yoga
The powerful Malavya Yoga is formed when Venus occupies a Kendra (quadrant) or a Kona (trine) identical with his own sign or the sign where he attains exaltation. This Yoga bestows on the native great wealth, authority, good meals, vehicles, learning and a good spouse and children. This is the best of all Yogas produced by Venus.

Venus with Sun and Moon
Venus with Sun in the 9th makes the native a sickly person. Venus-Sun-Moon combination in the 9th produces a person of loose morals.

Two marriages
Native gets vehicles, wealth and ornaments when there is a sextile (60 degrees apart) aspect between Venus and the Moon which is free from malefic affliction.

If Venus is in the Vargas owned by Mars and Saturn or is aspected by them the native would have affairs with the wives of other people. If Venus and Moon are in the 7th House from Mars or Saturn, the native would not marry. Two marriages and several love affairs are indicated if Venus is in Gemini, Virgo or Sagittarius.

A faithful husband
If the Lagna in the Navamsa Chart of a woman is Taurus or Libra, she would get a handsome and faithful husband.

Moon-Venus combination in the Lagna of a female would make her jealous and malicious. She would be desirous of leading a life of luxury. Venus-Mercury combination in the Lagna produces a charming woman skilled in arts and sciences. She would be loved by her husband. Venus- Mercury-Jupiter conjunction in the Lagna confers wealth, happiness and noble qualities on a woman.

Good results in Dasas
Those born in the Berana, Puvapal and Puvasal constellations come under the Maha Dasa of Venus which runs for 20 years. Favourable results relating to the Houses where Venus is strong or his beneficial influence is felt, would become manifest during his Antar or Maha Dasa under the Vimshottari Dasa system.