---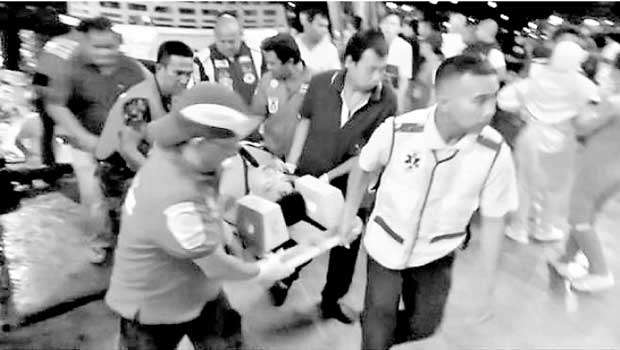 Rescuers carry an injured person on a stretcher after a boat capsized off the tourist island of Phuket, Thailand (REUTERS)
PHUKET, THAILAND, (The Hindu) JULY 06, 2018 - Thai divers scoured the wreckage of a boat with Chinese tourists that sank in a storm off the resort island of Phuket, as the death toll rose to 10 with about 45 others missing on Friday, officials said.

Nine bodies of Chinese tourists were being brought to Phuket, where authorities had already confirmed the death of another Chinese man.

Some of the bodies were found by divers who entered the wreck Friday and others were floating in the water, said navy official Narong Aurabhakdi.

The boat was carrying 105 people, including 93 tourists, 11 crew and one tour guide when it toppled in 5-meter (16-foot) -high waves on Thursday evening. At least 12 of the injured were hospitalized.Another boat also overturned off Phuket on Thursday. Officials said all 42 on board have been rescued.