---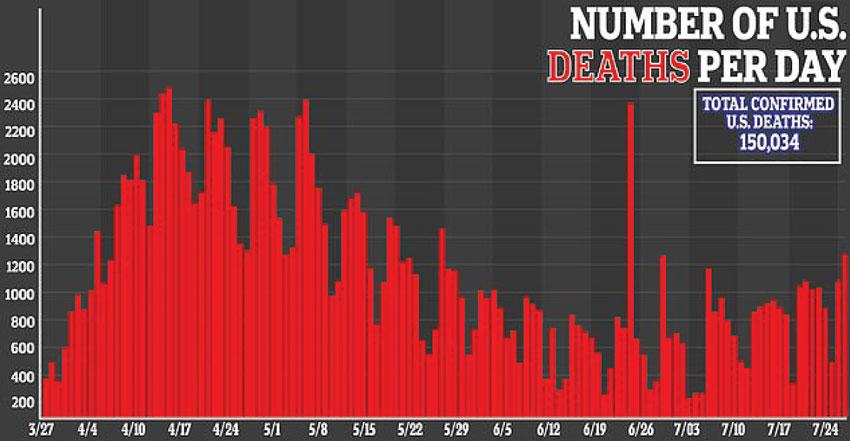 America has now recorded more than 150,000 COVID-19 fatalities, reaching a grim new milestone in the coronavirus pandemic.

On Wednesday afternoon, Johns Hopkins University confirmed that 150,034 Americans have now died from the highly contagious virus, with more than half a dozen states clocking their highest daily number of fatalities in the past 24 hours.

American citizens now account for almost a quarter of the 662,577 coronavirus deaths recorded worldwide.

In a separate report CNN reported President Trump responded with pseudo-science as the US death toll reached 150,000. No other country comes close to reporting as many coronavirus deaths as the US. Brazil has seen 88,539 deaths, while the United Kingdom has clocked 46,046 fatalities.

Italy and Spain - which were both hit hard by the coronavirus in April and May - have reported less than 36,000 deaths respectively after their fatality rates sharply declined in the wake of strict stay-at-home orders.

It's a different case in the United States, where the death rate continues to soar, despite the country stretching into its fifth month battling the pandemic.

Fatalities have increased by more than 10,000 since July 17, which marks the fastest increase in deaths since the US went from 100,000 to 110,000 fatal cases over 11 days in early June.

On Tuesday, seven states - Florida, California, Texas, North Carolina, Arkansas, Oregon and Montana - all reported a record spike in their fatalities.
US, (Daily Mail),
30 July 2020