---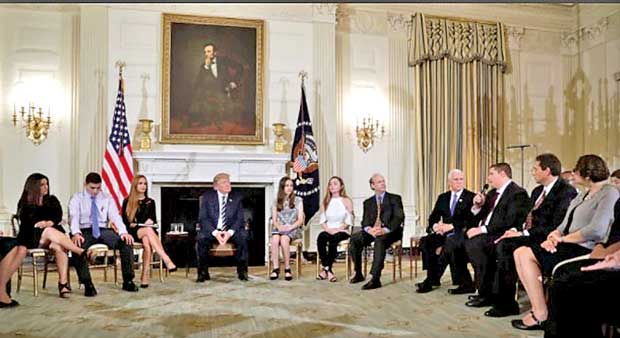 At first, the hour-long President Trump meeting with students who survived last week's Florida school shooting appeared to be an open discussion about ways to stop the killing. In Europe, it reminded some stakeholders of how they first began to brainstorm ideas, following a devastating string of school shootings here between 2002 and 2009.

"Does anyone have any idea of how to stop it?," Trump asked, after survivors and advocates had delivered powerful testimonies at the White House event that was broadcast live.

But the search for "any idea" that could stop the shootings quickly led to a familiar proposal - and one that is extremely risky, according to those who have spent years successfully trying to prevent similar shootings in Europe on behalf of their governments. Trump did not make any conclusive promises at the end of the meeting, but as the conversation moved on he appeared to favour arming teachers themselves.

Switzerland and Germany are among the leaders of an approach that was eventually also discussed during Trump's White House meeting on Wednesday. Almost an hour into the meeting, one participant voiced skepticism of the idea to arm teachers. "I appreciate the point on arming teachers; it's not something I personally support. Rather than arm them with a firearm, I would rather arm them with the knowledge on how to prevent these acts from happening in the first place. How do you identify the kids in your class that are most at risk?," she said.

"Whoever hopes that Trump will seriously restrict gun laws will likely be disappointed," wrote Germany's Der Spiegel magazine in a story published online. "In fact, the opposite may happen. Apparently, Trump believes to be able to create more security at schools by adding more weapons," Spiegel's Washington correspondent summarized in disbelief, before citing NRA donations to Trump.
By Rick Noack (c) 2018,
The Washington Post Feb 22, 2018 -BERLIN -