---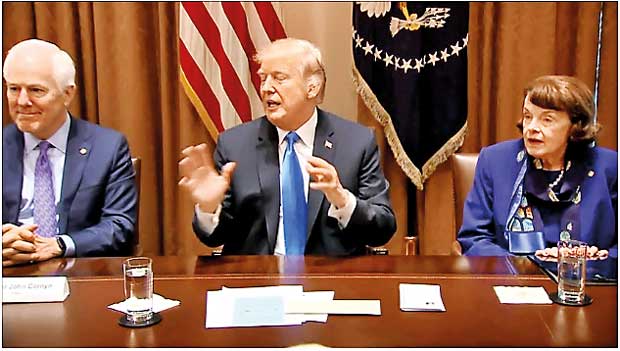 Anne Gearan, Mike DeBonis, Seung Min Kim ·(c) 2018, The Washington Post Mar 01, 2018 - WASHINGTON - President Donald Trump upended modest Republican gun-control proposals and defied the National Rifle Association during a freewheeling session with lawmakers Wednesday that the president said should yield comprehensive restrictions "on the strong side."

But in the televised meeting at the White House, Trump sent so many mixed signals about what he envisioned for a package on firearms and school safety that he left Democrats gleeful and Republicans tight-lipped amid doubts that Congress would produce any legislation.

"We want to pass something great, and to me the something great has to be where we prevent it from happening again," Trump said, referring to the shooting deaths of 17 students and faculty members at Marjory Stoneman Douglas High School in Parkland, Florida, on Feb. 14.

Sitting with a group of Democrats and Republicans, including some who are backed by the NRA, Trump made what sounded like an extraordinary break with the powerful gun-rights organization. He accused lawmakers of being so "petrified" by the NRA that they have not been willing to take even small steps on gun control.