---
BEIRUT AFP June23, 2017
The head of Lebanese movement Hezbollah on Friday warned Israel against attacking Lebanon or Syria, saying "hundreds of thousands" of Arab and Muslim fighters would be ready to strike back.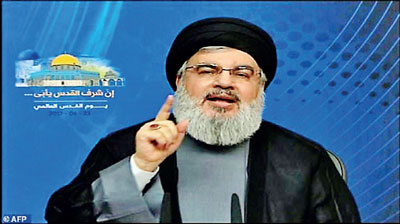 "The Israeli enemy should know that if it launches an attack on Syria or Lebanon, it's unknown whether the fighting will stay just between Lebanon and Israel, or Syria and Israel," Hassan Nasrallah said.

"I'm not saying countries would intervene directly -- but it would open the door for hundreds of thousands of fighters from all around the Arab and Islamic world to participate in this fight -- from Iraq, Yemen, Iran, Afghanistan, Pakistan," he said.