---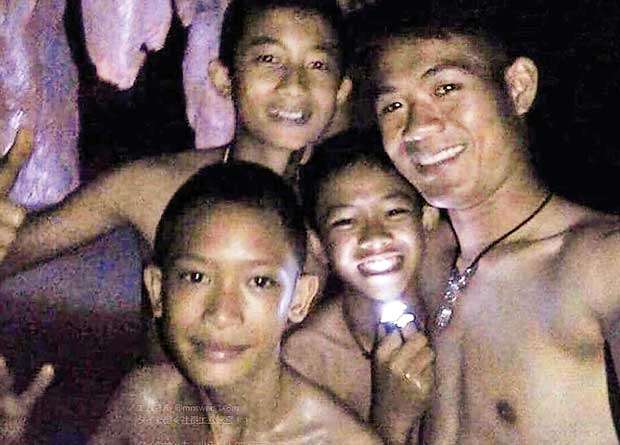 Twelve Thai boys and their football coach who were lost in a flooded cave for nine days may be stuck there for months before they can be rescued.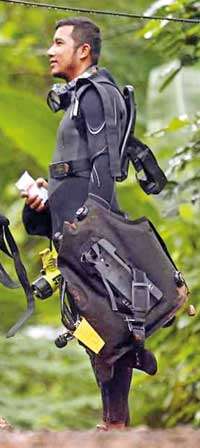 The 'rake thin' schoolboys, who were found starving but alive by two British volunteer cave divers on Monday, may have to wait until water levels subside at the end of monsoon season because they can't swim.

Cave experts say it would be 'unbelievably dangerous' to try to get them out while the waters are still high.

The boys face a nervous few days as heavy rains threaten to further flood the Thamg Luang cave in Chiang Rai, Thailand and cut them off from help.

Two Navy SEAL doctors have agreed to stay with the group as rescuers send them food to last four months.

The footballers - who are unharmed apart from two with 'light injuries' - have been given energy gels and paracetamol while a phone cable is being installed so they can speak to their shattered parents.
Authorities now face a tough decision on when to try to get the boys out. One option being explored is to teach them how to dive so they can swim out alongside rescuers.
Thailand, (Daily Mail), 2 July 2018 -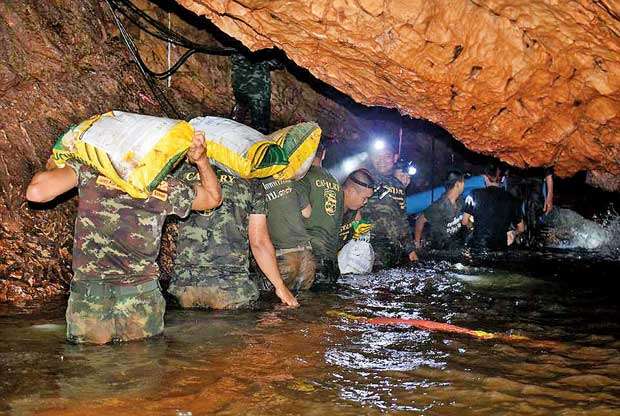 ---
The amazing moment rescuers reached football team
A transcript of the conversation between rescue divers and the trapped children, who spoke to their British rescuers in broken English, revealed the youngsters had no idea what day it was or how long they'd been missing.
Rescuer: How many of you [are there]?
Children: Thirteen
Rescuer: Thirteen? Brilliant!
Rescuer: There's two of us.... we had to dive.
Rescuer: We're coming, it's ok. Many people are coming. We are the first.
Children ask what day it is
Rescuer: Monday. One week and Monday. You have been here 10 days. You are very strong, very strong.
Rescuers urge them to go back from edge of water. Divers then swim over to their side.
Rescuer 2: That is just the most amazing timing.
Children: What day you come help me?
Rescuer 1: We hope tomorrow.
Rescuer 2: Navy Seals will come tomorrow with food, doctor and everything. Today you have a light? We will give you more lights.
A lot of rummaging around and darkness.
Rescuer 1: We are happy too (in response to inaudible comment)
Children: Where you come from?
Rescuer 2: England, UK