---
Myanmar leader Aung San Suu Kyi has rejected a suggestion she is soft on the military, which the United Nations has accused of ethnic cleansing, saying her relationship with the generals was normal and her objective was national reconciliation.

Suu Kyi condemned on Tuesday rights abuses in Rakhine State, where conflict that began last month has forced 421,000 Rohingya Muslims to seek refuge in Bangladesh, and said violators would be punished.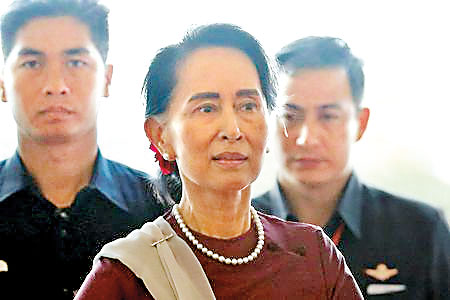 However, in her first address to the Buddhist-majority nation on the crisis, she did not address U.N. accusations of ethnic cleansing by the security forces, drawing cool international responses.

"We've never changed our stand," Suu Kyi said in an interview with Radio Free Asia, when asked if she had softened her stance on the military, which she challenged for years in her campaign for democracy.

"Our goal has been national reconciliation from the very beginning. We have never criticized the military itself, but only their actions. We may disagree on these types of actions."

She cited her unsuccessful bid in parliament to change a military-drafted constitution, which bars her from the presidency and gives the military responsibility over security and a veto over charter reform.
"We'll continue to bring changes within the parliament. I've stood firm with the military before, and still do now," she told Radio Free Asia.
REUTERS, 20th SEPTEMBER, 2017