---
REUTERS, 29th MARCH, 2017- The Scottish parliament backed a bid to hold a new independence referendum in 2018 or 2019, but the British government immediately rejected the proposal.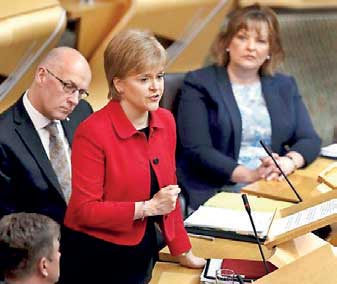 The stand-off further complicates the United Kingdom's political situation just as years of daunting negotiations on the terms of its exit from the European Union are about to begin.

The Brexit issue has strained ties among the UK's four constituent parts because England and Wales voted to leave the EU while Scotland and Northern Ireland voted to remain.

British Prime Minister Theresa May is due to trigger Article 50 of the bloc's Lisbon Treaty on Wednesday, a formal step that will start two years of talks on withdrawal terms and future trade relations.

The Scottish legislature in Edinburgh voted by a majority of 69 to 59 to give First Minister Nicola Sturgeon a mandate to formally seek permission from the British parliament in London to prepare for a referendum in late 2018 or early 2019.