---
US, (rt.com), 6 Apr, 2017 -*-President Trump said his attitude toward President Bashar Assad and Syria has "changed very much," when asked at a joint news conference with Jordan's King Abdullah if the alleged chemical attack in Idlib crossed a red line."...When you kill innocent children – innocent babies – with chemical gas… that goes beyond red lines," Trump told reporters on Wednesday.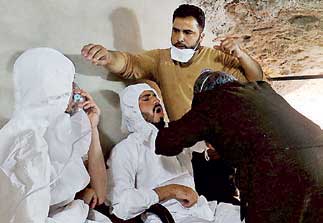 Pressed by reporters to reveal what he intended to do in response, Trump declined."Militarily, I don't like to say when I'm going and what I'm doing," he added. "I'm not saying I won't do anything one way or another, but I certainly won't be telling you [the media].

The Syrian army said in a statement "We deny completely the use of any chemical or toxic material in Khan Sheikhoun..."

The Russian military said that it did not conduct any airstrikes in the Idlib Governorate either.