---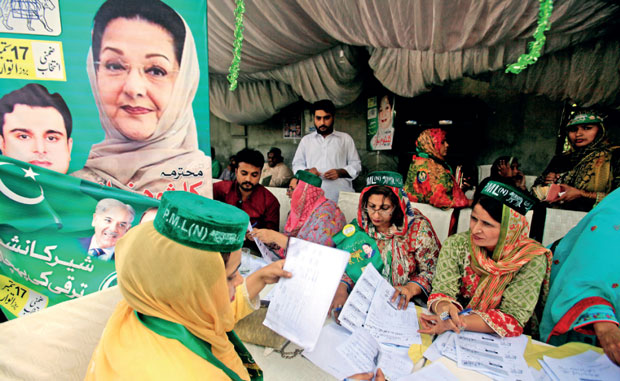 By Pamela Constable, Shaiq Hussain
Voters in the longtime stronghold of Pakistan's ruling party signaled they were looking for change Sunday, when the main opposition candidate did unexpectedly well although losing the race to fill the parliamentary seat of former prime minister Nawaz Sharif.

Sharif was ousted by the country's Supreme Court in July after a legal battle over charges that he and his family had hidden their wealth in overseas real estate. His wife, Kulsoom Nawaz, hospitalized in London with lymphoma, won the race in absentia as the candidate from his Pakistan Muslim League-N party.

But after a day marred by vote-rigging charges and physical clashes at polling stations, opposition candidate Yasmin Rashid, a medical doctor from the liberal Pakistan Movement for Justice, made a surprisingly strong showing, Returns showed the candidates running neck and neck all evening, but by 10 p.m., with all 220 polling stations counted, Nawaz had pulled ahead to defeat Rashid by about 13,000 votes. The final unofficial tally was 59,413 to 46,145.

Still, many analysts said, the relatively close margin was in itself an astounding and historic upset. National Assembly Precinct 120 is a bellwether district whose voters have been among the Muslim League's most reliable supporters for a generation. Sharif has been elected prime minister three times.

(c) 2017, The Washington Post · Sep 18, 2017 - ISLAMABAD, Pakistan