---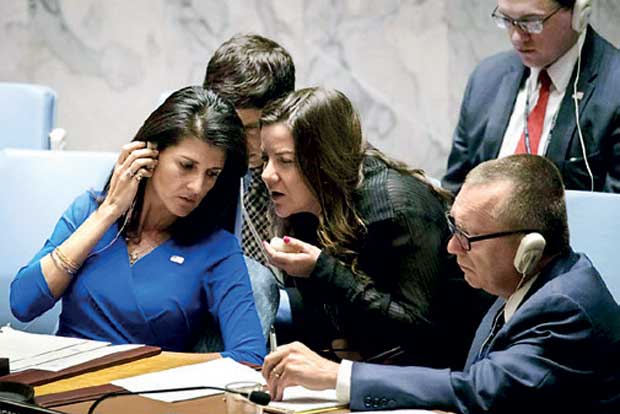 US Ambassador to the United Nations Nikki Haley confers with aides while she chairs a meeting of the United Nations Security Council.
HINDUSTAN TIMES, 06th APRIL, 2017- Nikki Haley, the tough-talking and blunt US Ambassador to the UN, was heckled during an annual summit on women here as she spoke about President Donald Trump and Russia.

Haley was speaking on Wednesday at the 'Women In The World' summit, a premier annual gathering of influential women leaders, politicians and activists organised by media personality Tina Brown in association with the New York Times.

As the Indian-American was answering questions during the session titled 'Trump's Diplomat: Nikki Haley' moderated by MSNBC anchor Greta Van Susteren, Haley was booed and heckled on several occasions. At one point someone in the audience shouted "what about refugees" while another said "when is the next panel."

During the nearly 22 minute session, a woman in the audience shouted "when is the next panel," to which the 45-year-old smiled and exclaimed "wow" as the audience tried to shush the heckler.
She was heckled again when asked how America deals with some of the world leaders who are dictators.