---
New Zealand, (Daily Mail), 27 November 2017 - New Zealand could be hit by devastating earthquakes and tsunamis after the awakening of a long-dormant fault, scientists warn.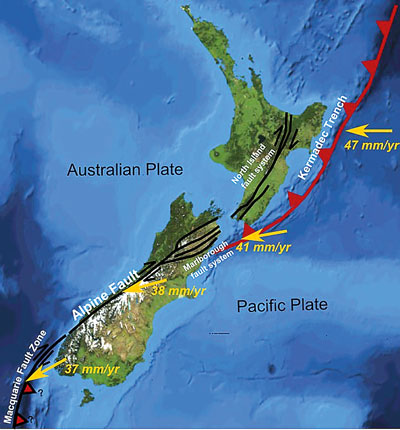 Geologists claim the dangerous Hikurangi subduction zone has begun to move following the devastating Kaikōura earthquake in 2016, which claimed the lives of two people. They state the trench - running offshore from the top of the South Island to Gisborne in the north - can produce deadly 9.0 earthquakes and tsunamis powerful enough to reach residents in just seven minutes. 'We need to think Japan 2011 basically, because if our whole plate boundary ruptured it would be a magnitude-9 earthquake,' GNS scientist Ursula Cochran told Fairfax.

The intense earthquakes are caused when the tectonic plates along the boundary are forced over the top of one another, creating 'megathrust'.

Previous earthquakes along such zones include the catastrophic 9.1 event in Sumatra, resulting in the Boxing Day tsunami that claimed the lives of around 250,000 people.