---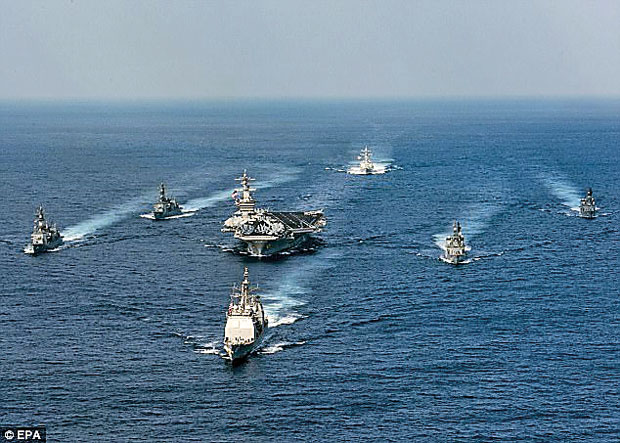 As U.S. warships approach
North Korean state media on Tuesday warned of a nuclear attack on the United States at any sign of U.S. aggression as a U.S. Navy strike group steamed towards the western Pacific.
U.S. President Donald Trump, who has urged China to do more to rein in its impoverished neighbour, said in a Tweet North Korea was "looking for trouble" and the United States would "solve the problem" with or without China's help.
Tension has escalated sharply on the Korean peninsula with talk of military action by the United States gaining traction following its strikes last week against Syria and amid concerns the reclusive North may soon conduct a sixth nuclear test.
North Korea's official Rodong Sinmun newspaper said the country was prepared to respond to any aggression by the United States.
"Our revolutionary strong army is keenly watching every move by enemy elements with our nuclear sight focused on the U.S. invasionary bases not only in South Korea and the Pacific operation theatre but also in the U.S. mainland," it said. The North's foreign ministry, in a statement carried by KCNA, said the U.S. navy strike group's approach showed America's "reckless moves for invading had reached a serious phase".
Saturday is the 105th anniversary of the birth of Kim Il Sung, the country's founding father and grandfather of current ruler, Kim Jong Un. North Korea often also marks important anniversaries with tests of its nuclear or missile capabilities in breach of U.N. Security Council resolutions.

PYONGYANG REUTERS April 11