---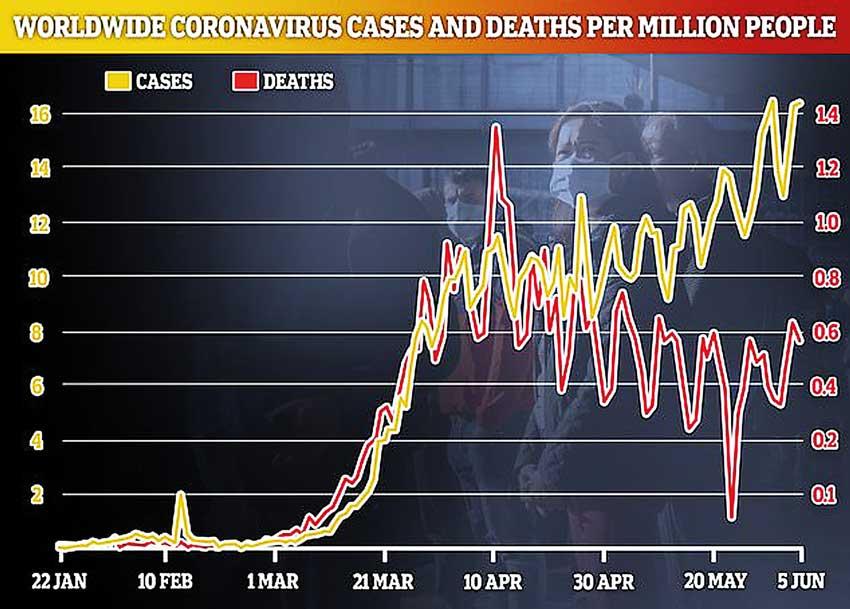 (Daily Mail), 8 June 2020 -More than seven million people have been infected with coronavirus across the world - and two in every three cases are in Europe and the US.
At least 7,003,851 cases have been officially recorded, alongside a staggering 402,867 deaths.

Europe has had the largest number of infections at 2,275,305, and has suffered 183,542 deaths.

The US has recorded 1,942,363 cases and 110,514 deaths - both the highest rates for any country worldwide.

The UK has the world's second-highest death toll, at 40,625, though Brazil is quickly catching up amid fears it could become the new epicentre for fatalities.

The number of global cases of coronavirus has doubled in just over a month, and more than one million have been registered in the past nine days.

The tallies used data collected from national authorities and information from the World Health Organisation (WHO, though they likely reflect only a fraction of the actual number of infections.

While testing in many countries has increased since the outset of the outbreak, many nations are still testing only symptomatic or serious cases. The number of deaths linked to COVID-19 in just five months is now equal to the number of people who die annually from malaria, one of the world's most deadly infectious diseases.